TASTE AND TEXTURE
This bite-sized delight is packed with flavour and texture. Pan-fried Duck Liver with Tamarind Sauce on Portuguese Bread is juicy and flavourful with tamarind sauce, while the Portuguese bread and pickles offer just the right texture.
Glen Bar exudes a contemporary Thai vibe and serves delicious dishes that beef lovers
will be tempted to try, as well as creative drinks that are both fun and tasty.
STORY AND STYLE
EKARIN YUSUKSOMBOON
PHOTOGRAPHY
PIPAT CHAMRAT
ASSISTANT STYLIST
NOPPAWAN CHERDSUKJAI
I like Pullman Bangkok King Power. Every time I visit, I can feel its luxury and an air of relaxing and casual vibe. Its restaurants, in particular, have distinctive characters and offer delightful treats all day long, from breakfast, lunch and afternoon tea to dinner. The design of the hotel allows natural light to bathe the areas, and this is one of the most beautiful hotels in terms of lighting in Bangkok.
I had a chance to have dinner at Glen Bar. As I step from the natural daylight outside to the dim light of the restaurant, I was greeted by a Thai ambience inspired by the royal throne hall, with contemporary decorative elements. The food here is also diverse and delicious. At the moment, there are beef dishes for ladies and gentlemen who appreciate fine beef.
The first dish I want to recommend is Argentinian wagyu in a Thai style with jaew dip. I also loved the pan fried duck liver which is lightly toasted on the outside but juicy on the inside, with a hint of tamarind sauce, served on bite-sized Portuguese bread.
If you're a lamb lover, try the French lamb leg stewed for seven hours and served with Thai red curry. The curry wonderfully brings out the taste of the lamb leg. For drinks, the three drinks recommended by the mixologist will remind you of the countryside although you're sitting right in the middle of Bangkok.
Thai people are familiar with red curry, but this version comes with French lamb stewed for seven hours to give a flavourful taste loved by Thais and foreigners alike.
For Thai people, what's better than getting together with friends after work? Begin the evening rendezvous with Royal Blush, which is made with Phraya Premium Rum, lime juice, Crème de Classic and just a hint of vanilla syrup.
One of the most popular beef dishes among Thai is beef with jaew dip. It's even better when the beef is Grilled Argentine Wagyu Beef with Spicy Thai Sauce.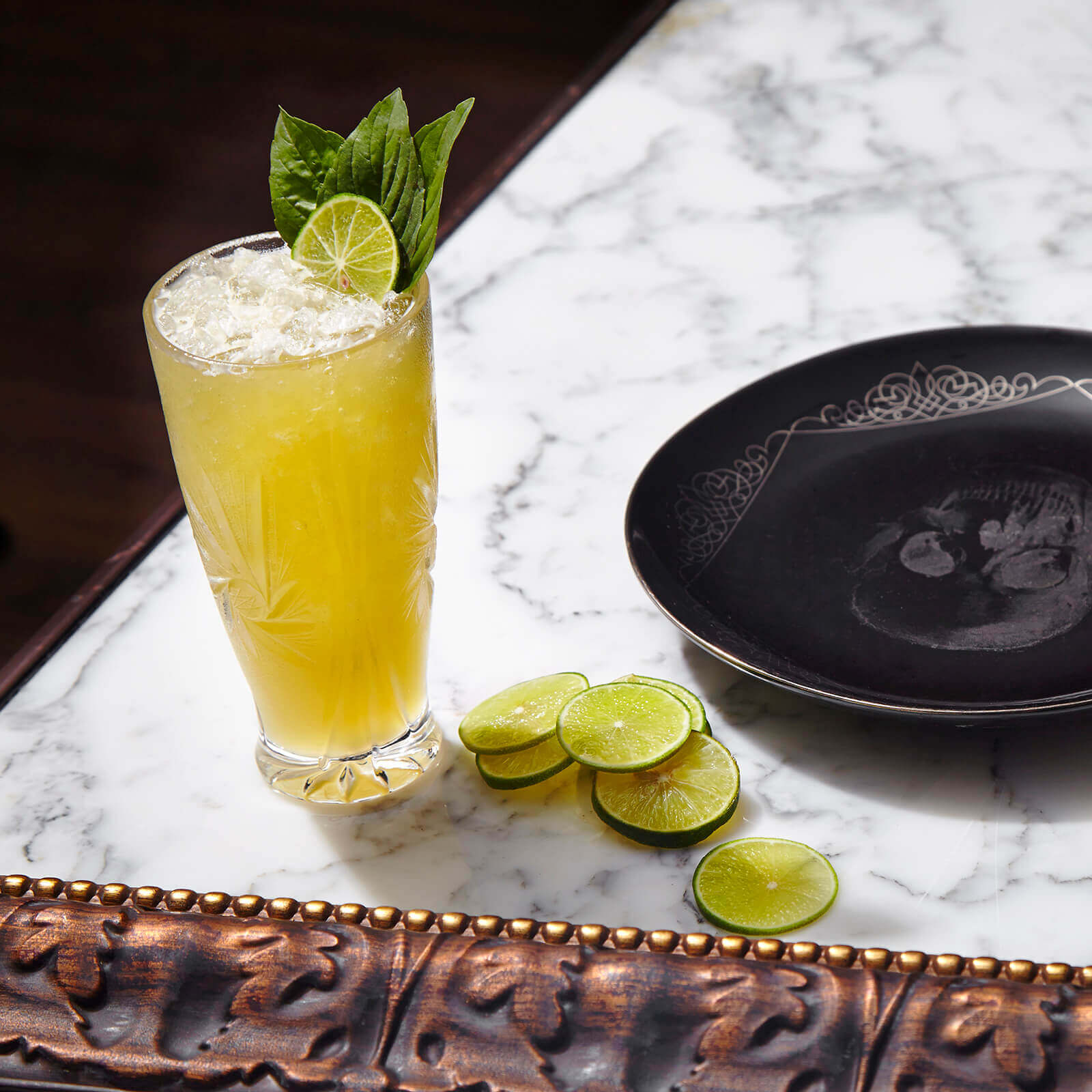 Chill out with Thai Sabai, a delicate cocktail to kick start your meal. It is made with Mekhong, lime juice, basil leaf, soda and syrup.
What makes this cocktail, titled Siam Sparkling, awesome is how it's mixed with Thai liquor Mekhong and seasoned with lychee, lemon and sparkling wine to tone down the degree.
*Special thanks to Glen Bar, Pullman Bangkok King Power, tel: 0 2680 9999, www.pullmanbangkokkingpower.com