Ask any food writer and they will tell you that chocolate is always a relevant topic.
STORY AND STYLE
EKARIN YUSUKSOMBOON
ASSISTANT STYLIST
NOPPAWAN CHERDSUKJAI
MIDAS TOUCH
Chocolate from Patchi: From shop decorating to packaging, everything about Patchi makes its chocolate even more special. Chocolate
Deluxe is a set of Milk Chocolate with Cream Pistachio and Hazelnut with special designs.
This bittersweet ingredient has appealed to people for centuries.
It was considered a holy drink for a South American tribe. Today, chocolate has become a symbol of love for Valentine's Day and a favourite among people around the world.
People perceive chocolate in different ways. Scientists and nutritionists continue to discover wonderful things about chocolate. It is said to help you sleep better and boost your memory. It's called "food of the gods". Its flavour has been praised by poets. Chocolate, especially on Valentine's Day, is an aphrodisiac food as it triggers the love hormone.
The newly revamped King Power Rangnam is packed with top eateries as well as Thai street food offerings. For the month of Valentine's Day, it features delightful chocolate creations, offered by Brekkie, Peace Oriental Teahouse and Make Me Mango. Don't forget well-established chocolate brands like Patchi and PABLO Mini.
At lunch time, Aksra Theatre features a puppet show series that presents Thai culture with a link to chocolate in a love story from Ramayana. This set of food story illustrates the beauty of chocolate through Ramayana to show you that chocolate is a black magic that brings together every culture.
PABLO Roasted Marshmallow Chocolate ของร้าน PABLO ชีสทาร์ตช็อกโกแลตเข้มข้นที่เพิ่มความพิเศษด้วยท็อปปิ้งมาร์ชเมลโลว์และซอสช็อกโกแลตด้านบน ให้สัมผัสนุ่มหนึบและรสชาติหอมหวานแบบกำลังดี เฉพาะช่วงวาเลนไทน์นี้ พาโบลมาพร้อมกับปิ๊กและกล่องแบบพิเศษ ที่มีให้เฉพาะ PABLO Roasted Marshmallow Chocolate นี้เท่านั้น
Chocolate Lava with Ice Cream: A popular menu from Make Me Mango that everyone loves. The Belgian chocolate lava cake is a perfect match with homemade vanilla ice cream.
From a small tea shop, Peace Oriental Teahouse is now a favourite among Thai and international tea lovers. Snow Dark Coco is bittersweet and fruity. Although unsweetened, it tastes just delicious and not too bitter.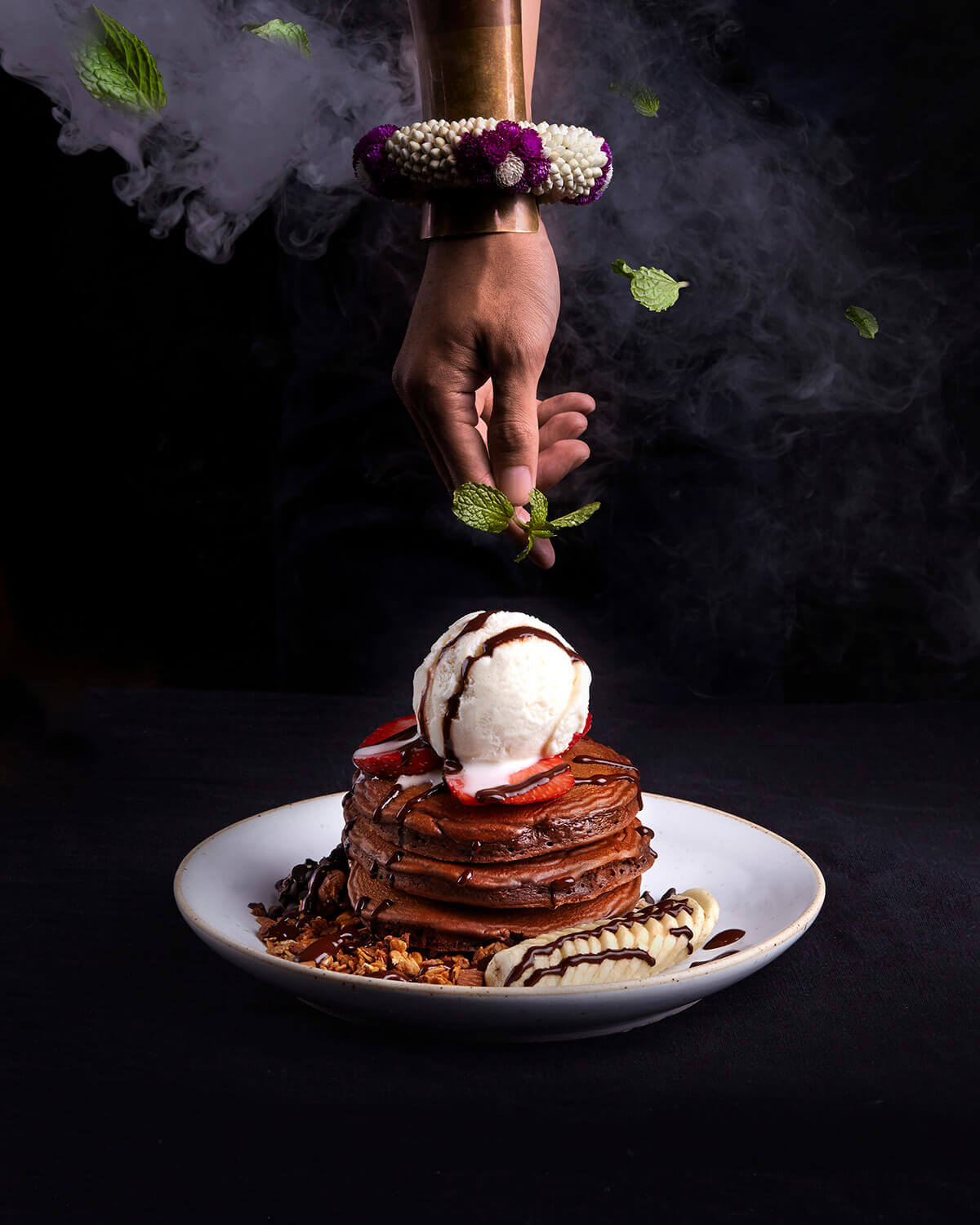 Cacao Pancakes are not just your typical pancakes. Brekkie dresses its pancakes with banana, homemade granola, chocolate chips, and vanilla ice cream topped with cocoa syrup.