Passionate about travelling, each year, 28-year-old "Pound" Haruethai Jayant Na Ayudhaya,
 

owner of Haatiya fashion label, explores new cities around the world. She will talk about three ancient cities

 

that she would like to recommend to everyone, as they are simply breathtaking.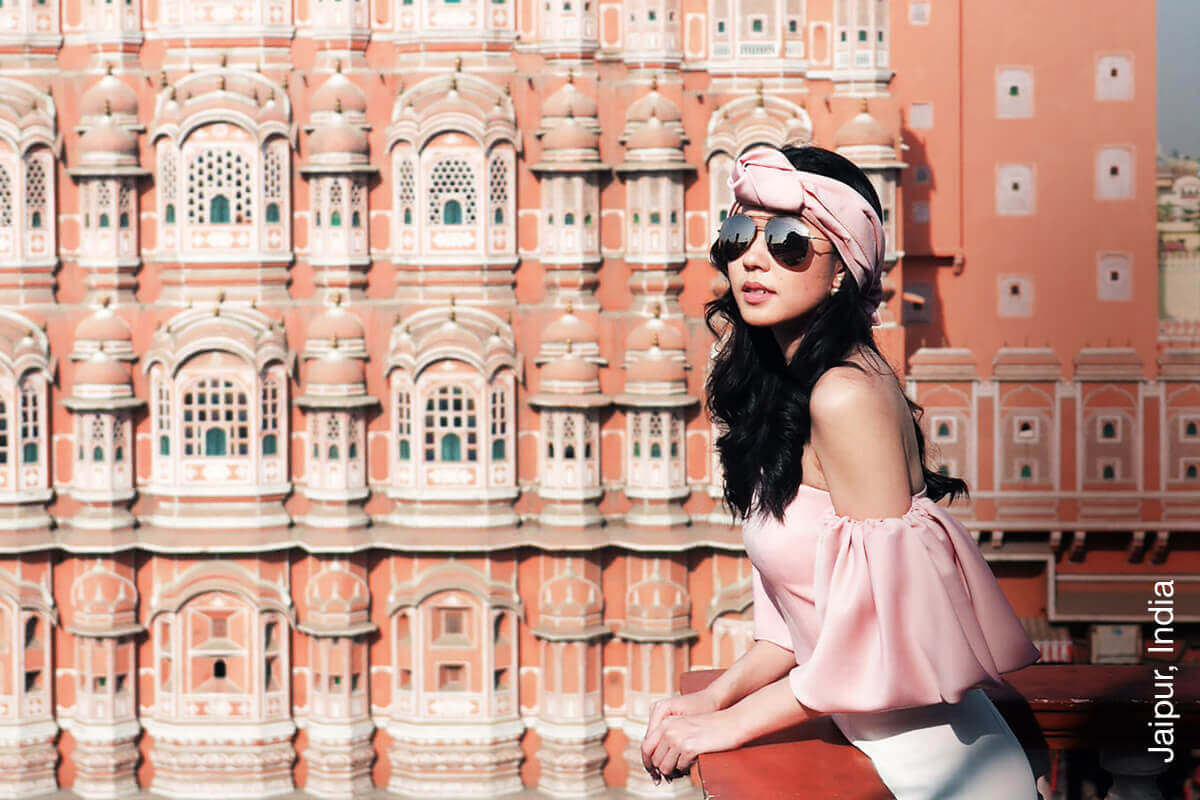 Jaipur is nothing like India in my perception. Every palace and every hotel is gorgeous. The most photogenic spot is the city's iconic landmark — the Hawa Mahal. To get the best photos, go there in the morning and go to the coffee shop on the opposite side. The angle is just perfect. In addition to historical places, there are also hotels which are former palaces renovated into 5-star hotels. You don't have to stay there — you can just go for a meal or afternoon tea. You'll be treated like a Maharaja or Maharani. These places are exquisitely decorated. I recommend Taj Rambagh Palace Hotel and SUJÁN Rajmahal Palace Hotel. Here's another tip: when visiting India, bring clothes in contrasting colours to the place you're going to. I usually wear monotonous colours, but when I was in India, when visiting the Taj Mahal, I wore bright yellow and the photos are unbelievably beautiful.
I went to Turkey five years ago and I was impressed. Yearning for more, just last year, I went again with my best friend. The views were just wonderful. Every photo is perfect without any editing. Cappadocia is known for its balloons, but exploring its streets proved to be just as fun. I'd been on a balloon before, so this time, I chose to walk around and stay in different hotels, one hotel per night for four nights. If you have a chance to go there, try Sultan Cave Suites, which gives you a cave living experience. The rooftop is carpeted and looks exquisite, especially in the morning when you can see balloons in the sky from 6am onward. It was such a wonderful sight that my friend and I woke up at 4am just to see this. While you're here, don't forget to try its kebab — I'd never had such a delicious kebab in my life!
I was inspired when I saw blogger reviews, so I made it a point to visit Morocco once in a lifetime. Marrakesh is where hotels and restaurants are hidden behind walls, with a small entrance. Inside, you'll see wonderful architecture, decorated with colourful tiles. The square in the middle of the hotel features a swimming pool. I wore a gorgeous swimsuit and took photos by the pool, and they were just amazing. During the day, it's quite hot, so you should wear something light and flowy, or a white tank top, which is perfect for the city's colours and desert-like weather.