Our destination in this issue is Mahanakhon Bangkok SkyBar, Thailand's highest restaurant
and bar located on the 76th and 77th floors of King Power Mahanakhon, which is known for
its pixelated design and an awe-inspiring SkyWalk complete with a glass floor.
CONCEPT AND STYLE
EKARIN YUSUKSOMBOON
PHOTOGRAPHY
PIPAT CHAMRAT
STORY
NOPPAWAN CHERDSUKJAI
The design of the restaurant offers a magical 360-degree view of the Bangkok skyline and Chao Phraya River. The interior is decorated with elegant Thai artisanal aesthetic with a hint of French art. Once the elevator opens, the timber arch entrance leads through to warm and inviting decorations, with travel tidbits from various countries lining both sides of the walkway, from Japanese pottery to old French books and tribal wood carvings. Inside, a large sculpture of a bull head welcomes everyone, leading the way to an indoor white marble bar area. The eggshell tables, wickery, and wooden pieces give a natural vibe, enhanced by the elegance of gold lamps, floor-to-ceiling windows, and large glass panels that offer a panoramic view of the city. Brown leather seats sport a delicate curve, perfectly echoing the arches of the river outside. The outdoor zone is decorated with lush green plants that evoke the feeling of being in a forest in the sky. At the VIP lounge, guests can feel like they are relaxing in the sky, designed by Tristan Auer, a principle of Wilson Associates' Paris Atelier. It offers a true escape from the hustle and bustle of the city down below.
In addition to the breathtaking views, another highlight is the culinary creations by its executive chef Joshua Cameron who leads a talented team who bring to life his Western and Asian signature creations with inspiration from his passion for travel and exploring international flavours, perfectly capturing the essence of the restaurant. 
Larb made with pink and juicy duck meat makes for a great main dish, elevating Thai food to the next level.
Inspired by the night sea, the chef creates this delicate panna cotta using French techniques and Japanese elements.
Japanese sea bream perfectly suits the tender tomato foam and lemon gel.
The starter dish presented to us is Hokkaido Uni Panna Cotta, inspired by the full moon's reflection on the sea surface. The round panna cotta features the delicious flavours of uni, made with fresh uni and cream, with a hint of cognac. It is topped with Hokkaido uni, a true gem from the sea, with soft texture and sweet flavour. Ikura offers a slightly salty taste, while deep fried wakame gives a feeling of freshness. It is served with yuzu ponzu sauce, an authentic Japanese flavour. The gold dust reflects the sparkle of the sea mirroring the stars in the sky. The dish is an escape to a starry night by the sea.
The second dish is Sea Bream Crudo, which is thinly sliced cured Japanese sea bream served on lemon gel with tomato foam. The dish tastes like a surprise, with green garlic oil with a hint of lemon zest, decorated with microgreen and edible flowers.   
For the main dish, the chef presents us with another level of Thai cuisine, cooked to perfection. Larb Ped — Spicy Grilled Duck Salad features charcoal grilled duck meat, which is juicy and tender, seasoned with larb seasoning — roasted rice, red onion, coriander, lime juice, fish sauce, and chili powder. It is served with pickled cabbage and crispy rice chips to offer a variety of textures and flavours in one dish. Although the chef has only been in Thailand for a short time, it is evident that he can capture the essence of Thai flavours and can create new experiences.  
American style chicken is made with free range chicken, portraying the chef's attention to ingredient sourcing.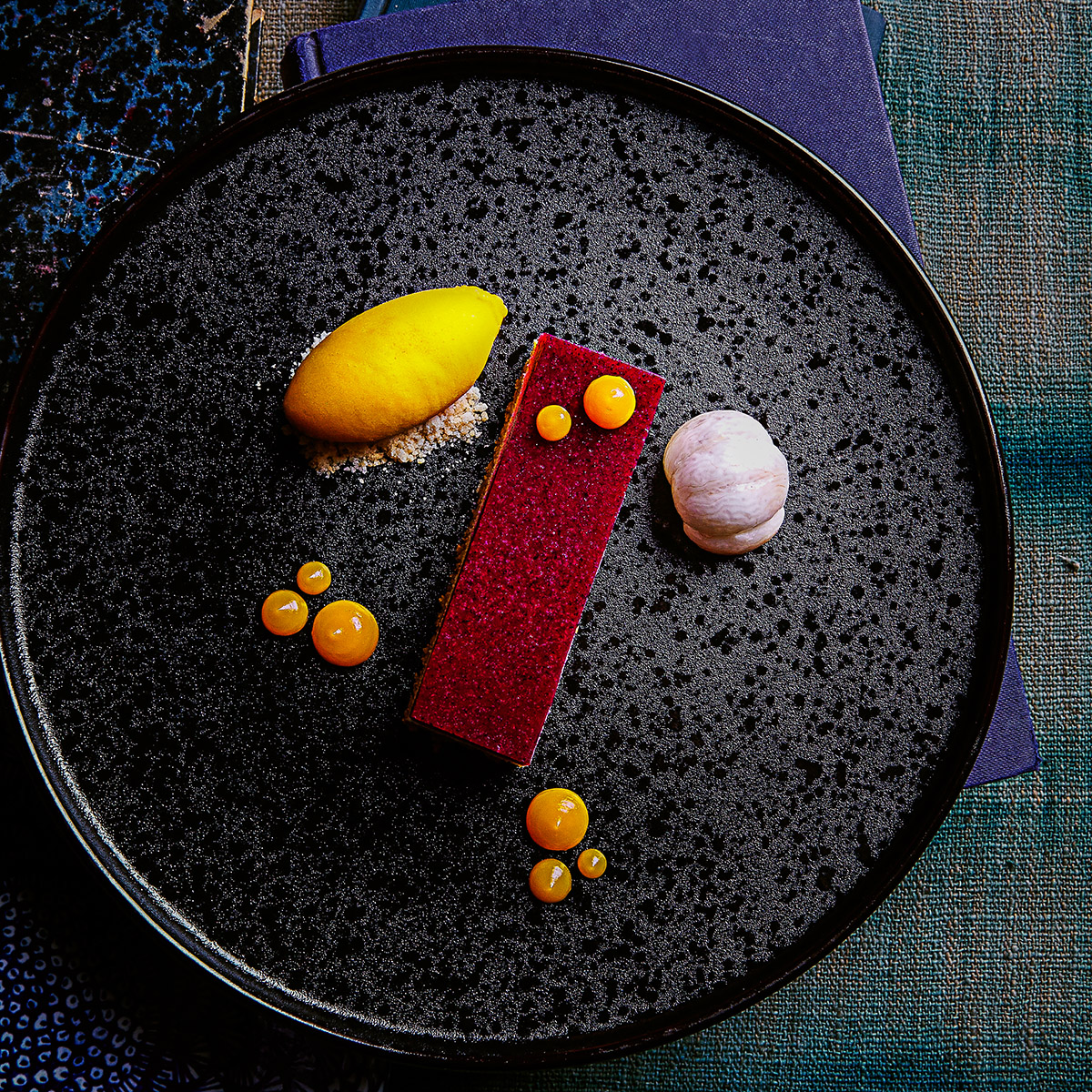 Asian fruits enhance the flavour of kaffir lime cheesecake, served with mango sorbet, passion fruit gel and refreshing mangosteen.
Next up is Stuffed Whole Free Range Chicken, an American dish with a modern twist, made with free range chicken. The stuffing is made with duxelles, black garlic, butter and brioche bread crumbs. It is soft and juicy inside and crispy outside, topped with aromatic gravy.  
Wrap up the meal with Kaffir Lime Cheese Cake, a Western dessert with a hint of Thai kaffir lime. The cheesecake is soft and creamy, a delicious contrast with its cracker crust. It is topped with yuzu and red dragon fruit gelee, passionfruit gel, mango sorbet, and fresh mangosteen.
Mahanakhon Bangkok SkyBar is open for dinner at 5PM-1AM. Its distinctive dishes are best enjoyed with wine and cocktail. The venus is great for both business dining and private rendezvous. The chef has a wealth of experience at Michelin starred restaurants in New York and other American cities as well as in Europe. In Thailand, he uses his experience to create new dishes. After he has settled down, he is planning to go on an adventure to look for new Thai ingredients to use in his creations.
*Special thanks to Mahanakhon Bangkok SkyBar, Thailand's highest restaurant and bar located on the 76th and 77th floors of King Power Mahanakhon. Mahanakhon Bangkok SkyBar is open daily for lunch from 11.00hrs-15.00hrs and for dinner at 17.00hrs-01.00hrs. For reservations, please call 0 2677 8722. For more information, please visit www.mahanakhonbangkokskybar.com.