Summer never fails to bring new stories and memorable moments
CONCEPT AND STYLE
EKARIN YUSUKSOMBOON
PHOTOGRAPHY
PIPAT CHAMRAT
STORY
NOPPAWAN CHERDSUKJAI
Beautiful colours and scents of blooming flowers give a sense of calmness and relaxation. Pullman Bangkok King Power welcomes the summer season with special dishes, using Thai fruits in Thai and Western dishes as well as desserts and drinks.  
The Junction invites you to try sponge cake with Thai fruits. Mango Creamy Cake is sponge cake with rich and aromatic ripe mango, topped with mango slices and pistachio. Young Coconut and Pandan Cake is sponge cake filled with young coconut meat and aromatic pandan mousse, with light green pandan glaze. Next is Pineapple Mousse with Chocolate, delicate pineapple mousse with rich chocolate filling and pineapple glaze. Lychee Clafoutis is a French dessert that reminds you of summer in Europe, with fruity texture made with lychee instead of cherry.  
For drinks, The Junction presents fresh flavours with new drinks. Espresso Juice is espresso mixed with orange juice and peach tea. Songkran is a cocktail made with Bacardi and pineapple, which will remind you of Thailand's most popular tradition Songkran.
Cool down your summer night with cool drinks at Glen Bar, which is decorated with Thai elements and sleek black and grey colour. Cocktails are made with Thai fruits and Mekhong, such as Rin Kam Lam Khong, which won an award from Mekhong Thai Spirit Cocktails 2018, created by Aekachai Khongsri, mixologist from Pullman Bangkok King Power. Using Mekhong rum and ingredients inspired by places the river flows through. Flowing from the Golden Triangle, the cocktail infuses a blend of herbal tea consisting of galangal, lemongrass, and pandan as a base. Tracing its route, the Mekong River flows past Loei province, which is known for its excellent sweet tamarinds before reaching Ubon Ratchathani province, which is known for its banana crisps. The result is a unique flavour that conveys the abundance and fertility brought by the Mekong River. 
Another interesting cocktail is Rangnam, a drink made with ginger syrup and chewy grass jelly.
Glen Bar also serves contemporary Thai and international dishes. Spicy Beef Carpaccio Pomegranate Dressing is thinly sliced Australian tenderloin, seasoned with olive oil, lemon, parmesan cheese and pomegranate, spiced up with Thai chili and pomegranate dressing. 
Deep Fried Lamb with Taling Pling Sauce uses Thai spices such as coriander and pepper to add flavour to the deep fried lamb, with a tangy flavour from taling pling and tamarind sauce.
Zeed Crispy Duck and Spicy Duck Salad served with Pineapple and Rice Cracker is herb-stewed duck meat deep fried until crispy on the outside and juicy on the inside. It is served with sweet and sour pineapple, and crunchy carrot and pumpkin flavoured rice cracker. The spicy duck salad is made with duck meat tossed in larb dressing such as roasted rice, sliced shallots, lime juice, fish sauce, fried chili and kaffir lime leaf. It is a wonderful mix of Thai herbs.
Summer is a time for trying new flavours, an experience which will brighten up your day and make the bright summer sky even more enjoyable.
Thinly sliced Australian tenderloin topped with pomegranate dressing.
Espresso Juice is an espresso shot with freshness from peach tea, honey, and orange juice to perk up your mood in the afternoon.
Rangnam is a drink made with Mekhong, ginger syrup, and chewy grass jelly. 
Rin Kam Lam Khong is a rum-based drink with Mekhong, galangal, lemongrass, and pandan, with sweetness from tamarind syrup and banana syrup.   
Songkran is a cocktail made with Bacardi and rich coconut milk, with an energising hint of black tea and sweetness from pineapple.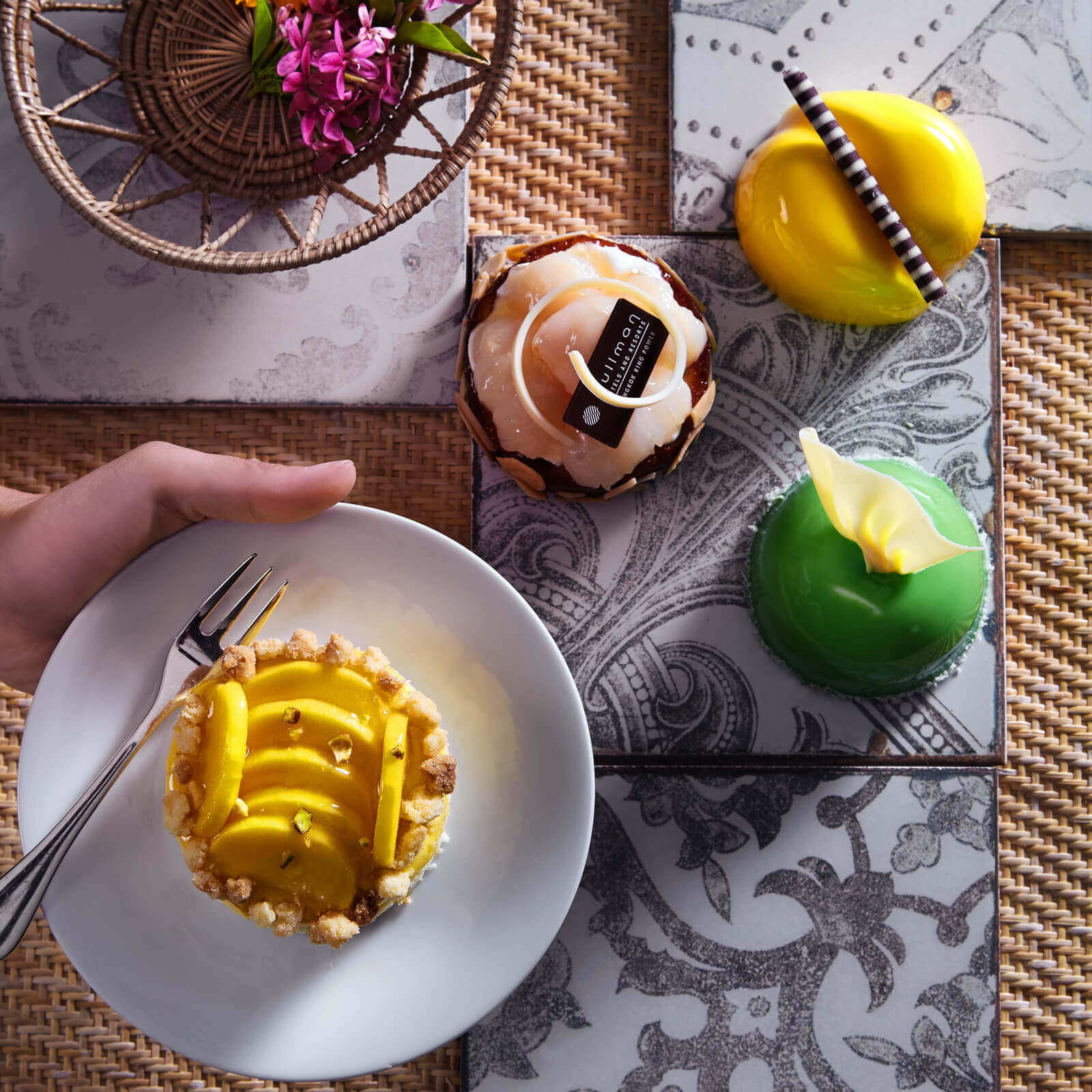 Welcome summer with desserts made with Thai fruits such as Pineapple Mousse with Chocolate, Lychee Clafoutis, Young Coconut and Pandan Cake, and Mango Creamy Cake.