King Power Thai Power marches forward with "Million Footballs, Million Power, for Thai Youth's Dreams" Project which is now going on Season 4 bringing an entourage to give away over 200,000 footballs to the youth across Thailand; especially in remote areas. The project's objectives are to foster the sports spirit of Thai youth by letting them have a chance to practice their football skills professionally, to encourage them to spend meaningful free time and to put a happy smile on their faces at the same time.
This year our football caravan kicked off at Wat Nong Sala School (Prachanukul) in Nakhon Pathom which attracted immense attention of youth in the school and the neighbourhood. Spearheaded by King Power Group Assistant Chief Operating Officer Apichet Srivaddhanaprabha and Group Corporate Branding & Communication Executive Vice President Krobkeaw Panyarachun, the caravan was also joined by Nakhonprathom Area office 1's Primary Education Service Deputy Director Min Prachubwan, former Nakhon Pathom Provincial Administrative Organisation Member Bundit Laoaroon, Wat Nong Sala School (Prachanukul) Director Chantana Phumma and popular actor Jirayu La-Ongmanee.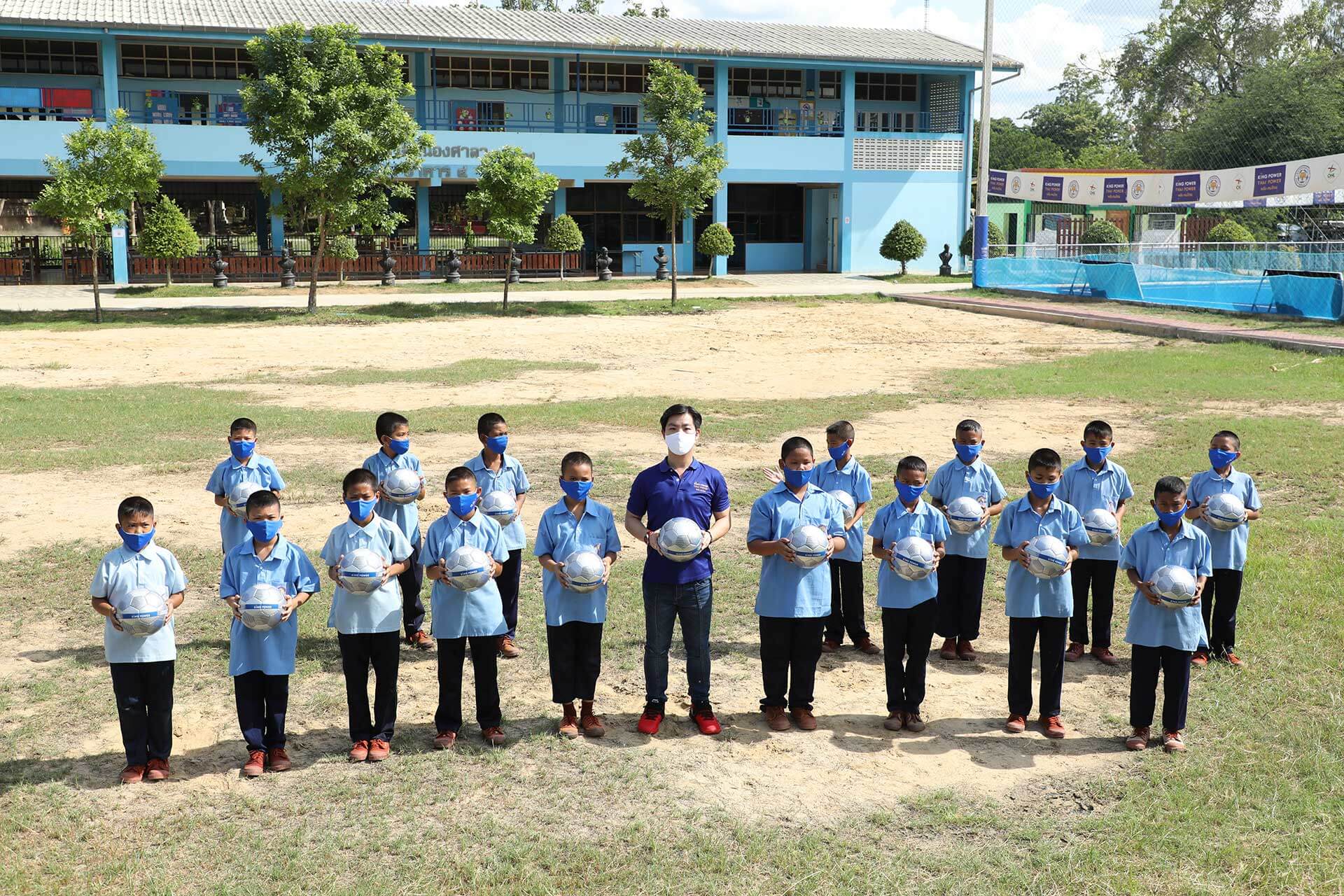 King Power Group Assistant Chief Operating Officer Apichet Srivaddhanaprabha talked about the success of this project which has been scheduled to distribute a total of 1 million footballs within 5 years. This year the project has reached its 4th year and he has started to see an improvement in some youths who have received the footballs and made good use of them to practice. Eventually they even managed to enter the schools renowned for their football skill training which could be regarded as their first step into their football career ladder. Committed to promote Thai youth's football skills in every perspective, King Power Group has distributed over 600,000 footballs for the past 3 years through this project.
Apart from football giveaway, there is another highlight – special football match. Playing on behalf of King Power Thai Power were Jirayu La-Ongmanee , Tawatchai Kuammungkun, former Fox Hunt Generation 1 player who is now playing for SCG Muangthong United FC, Chanchai Phonchamroen, former Fox Hunt Generation 2 player who is now playing for Port FC, Pirachat Kullaprapa, former Fox Hunt Generation 3 player who is now playing for Police Tero FC and Thakdanai Jaihan from Singha Chiangrai United FC. They had a fun battle with Wat Nong Sala School (Prachanukul) students. As a professional football player who joined the caravan to create buzzing and inspirational experience,
Tawatchai Kuammungkun said, "It feels really good seeing kids in remote area today got their hands on these footballs. Those days I grew up with this yearning to have a decent football for practice. I was always searching for an opportunity and then I got a break from King Power when I was scouted to be a player in Fox Hunt Generation 1. I got to chase my dream all the way to the UK's Leicester City Football Club where I received proper football education. I had a chance to meet several world-famous players in the Premier League which fueled me to practice even harder so that eventually I'm living my dream as a professional footballer and now I've become a player of the Thailand national team. I'd like to share with young kids with a passion for football on how to improve football skills, how to go about training and how to take care of your health properly. These could prove to be useful in stepping up their skills. One day, some of these kids who are determined will get to jump over their fears or obstacles to pursue their dreams and make them come true.
#KingpowerThaipowerพลังคนไทย
#WeBelieveInThaiPower
#เชื่อในพลังคนไทย