KING POWER SONGKRAN RANGNAM NAKARA
King Power and Ministry of Tourism and Sports presented "King Power Songkran Rangnam Nakara"
to celebrate the Thai New Year and promote Thai culture through ancient-style floating market
in Bangkok during 10-15 April at King Power Rangnam.
King Power invited Thais and tourists to enjoy Thainess through a wide array of activities. The grand opening ceremony took place on 11 April at Fountain Square, King Power Rangnam, honoured by Minister of Tourism and Sports, Weerasak Kowsurat, who was welcomed by Aiyawatt Srivaddhanaprabha, King Power Group CEO, as well as many celebrities.
Aiyawatt Srivaddhanaprabha, King Power Group CEO, said that King Power, as a popular destination for both Thai travellers and international visitors, has partnered with the Ministry of Tourism and Sports to present this Songkran celebration for the first time. It will become an annual event marked on the tourism calendar. Visitors from around the world can experience authentic Songkran festival and immerse in Thai culture through many activities.
Minister of Tourism and Sports, Weerasak Kowsurat, said that the Ministry realises the importance of keeping alive wonderful Thai traditions. This event, in partnership with King Power, is a great opportunity to present the beauty of Songkran in order to keep it alive. The Ministry will mark "King Power Songkran Rangnam Nakara" into its annual calendar as a highlight event.
During 10-15 April, King Power Rangnam was transformed into an ancient city with a floating market, representing Thai culture through five distinctive zones. The "Temple Zone" featured a 200-year-old Buddha statue from Wat Aphaithayaram for visitors to seek blessing from. There were also many activities such as traditional Thai games.
The "Market Zone" was a foodies' paradise with famous eateries from around the country. It also housed a floating market authentic Thai selling. The "Field Zone" had an albino buffalo as a mascot, while the "Garden Zone" featured performances from all the four regions of Thailand. The "Home Zone" presented unique Thai architecture from the four regions in symbolic colours of each region: champaca yellow for the North, jasmine stalk green for the Central Region, gourd flower yellow for the Northeast, and earth red for the South. Arts and crafts from the four regions were also showcased at these homes.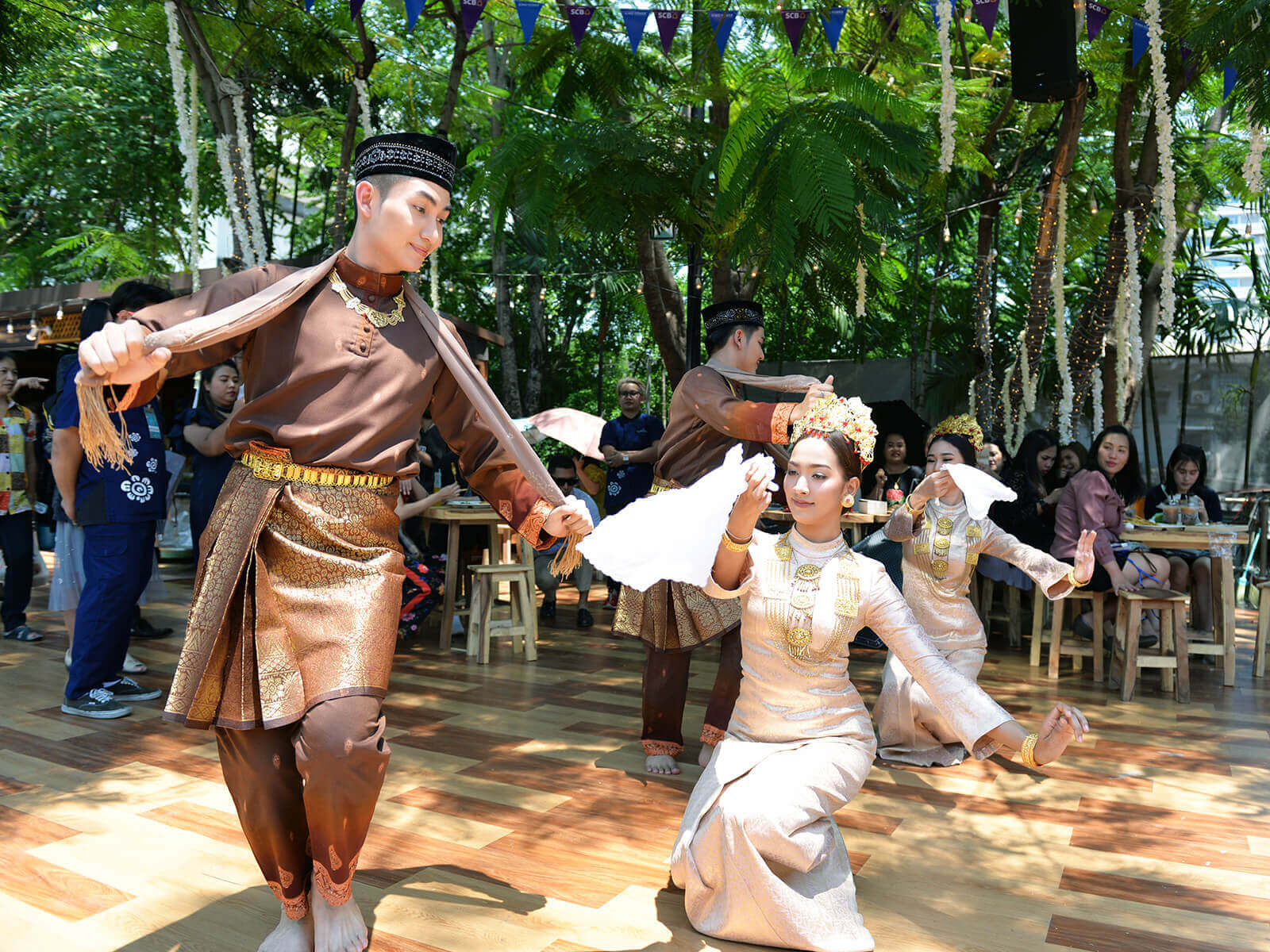 For entertainment, the highlight was a major procession featuring top Thai actresses dressed in exquisite Thai costumes and accessories throughout the six days. On 10 April, Kimberly Ann Voltemas led the procession, followed by a performance by Paradise Bangkok Molam International Band and a mini concert by "Gun" Napat Injaiuea and "Kang" Vorakorn Sirisorn. On 11 April, "Taew" Natapohn Tameeruks, Manora Phaisan Khunnu and SBFiVE entertained their fans. On 12 April, it was Praya Lundberg's turn, with beautiful singing from Suntaree Vechanon and Lanna Cummins. On 13 April, "Bella" Ranee Campen met her fans, followed by the Suntharaporn and BNK48.
On 14 April, "Kwan" Usamanee Vaithayanon joined the procession, followed by performances by "Krist" Perawat Sangpotirat and "Singto" Prachaya Ruangroj, as well as a likay show by the Chaiya Mitrchai Group. The event wrapped up on 15 April with "Mint" Chalida Wijitwongtong and the boys from Conversation Thailand: "Great" Sapol Assawamunkong, "Porsche" Sitha Kanchana-alongkorn, "Gap" Kittichat Dechahuasing, and "Muse" Nattawit Pewngam.