Illustrator and designer "Yoon" Phannapast Taychamaythakool has reached international fame
following her collaborations with global fashion brand Gucci and Instagram, as well as many Thai brands.
This Chinese New Year, she brought her fun design to wish King Power members
and customers a prosperous year in "King Power Chinese New Year The Blessing Comes Home"
during 23 January – 1 February.
For this project, Phannapast was inspired by her own personal story as a Chinese Thai, creating the Golden Mouse Family characters to represent the Year of the Rat 2020. These characters are adorable and vibrant, doing auspicious actions befitting the Chinese New Year. Her signature style is essentially oriental and humourous, filled with delicate details. In this interview, let's take a look at the artist's journey and learn about how she rose to fame on an international level.  
"I've always loved drawing, and I never thought that my passion would become a lifelong profession," said Phannapast about the origin of her journey. "As a child, I used to think that since I loved drawing, I should study architecture. But after I'd studied the basics, I realised it wasn't for me, so I switched to the Faculty of Fine and Applied Arts, Chulalongkorn University, majoring in fashion in the Department of Creative Arts." 
As a university student, she interned at Thai fashion brand Kloset, and after graduation, she worked there for five years, working her way up from a junior designer to creative director.
"While I was Kloset's creative director, Alessandro Michele just started as Gucci's new creative director as well, and there were many changes happening at Gucci. Some liked them, and some didn't. For me, I felt that Gucci was more romantic, and I understood Alessandro very well because I was in that position, too. I knew what it's like. So I drew a picture and tagged Alessandro on Instagram to show support."
From that well-wishing picture, she was contacted by Gucci's social media team, and three months later, she became one of the few Asian artists invited to join the Gucci Tian project to create postcards for Gucci. 
"When they reached out to me, it was like a dream. I chose to draw portraits, but they are half human, half animal. I picked the rooster, because that was the zodiac sign of that year, wearing Gucci clothes, with a monkey on its shoulder. This character is on the Gucci ArtLab wallpaper now."
After the first project, she has continued working with Gucci, such as in The Wonder Factory project for fine jewellery, the Gucci Bloom Acqua Di Fiori campaign, and Gucci DIY.
Beyond the pride of working with a globally famous brand, the experience has taught her to be herself and believe in herself. In addition to working with Gucci, she has also designed the photo backdrop for Instagram's office in New York City. 
"Soon after the project with Gucci, I decided to leave my full time job and become a freelancer for a while. I love reading self-help books and came across a striking article. It taught me that we should always live right, and we should never let the wrong things, no matter how small, get in the way of our future. That prompted me to open my own company Rainbow of Dream, to continue my dream through my work."
One of her most recent work is her collaboration with King Power in an exciting campaign which unleashed her inner Chinese Thai. She designed the Golden Mouse Family characters for the Chinese New Year, which appeal to everyone. It was a challenging project, but she succeeded.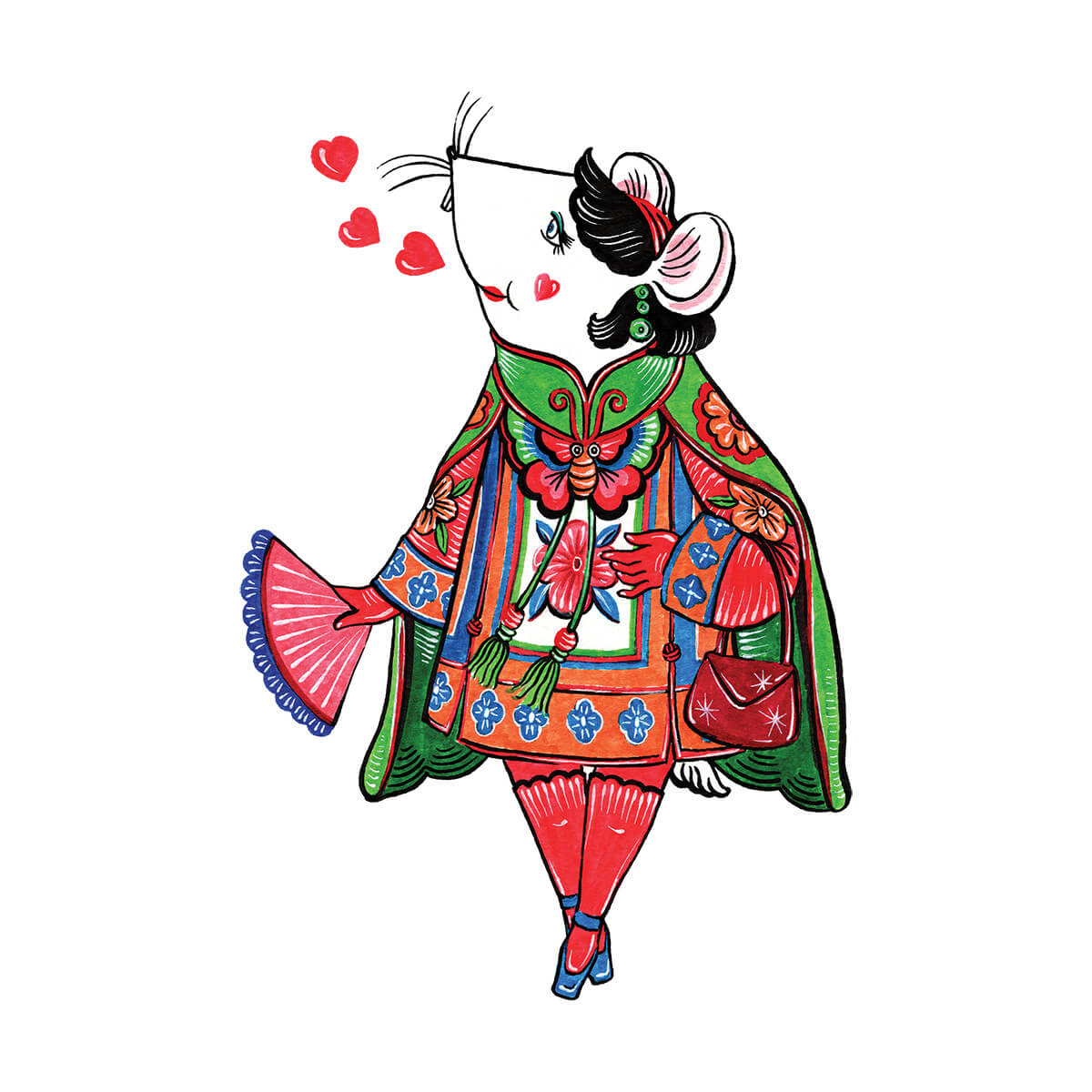 She drew the characters of the Golden Mouse Family under the concept of The Blessing Comes Home, as the members of the family come together to celebrate the Chinese New Year at their home in The Golden Mouse Village. Their home is lavishly decorated with Chinese architecture and art, inspired by Shantung Street in Suzhou, which UNESCO awarded World Heritage Site status. The beauty and rich heritage of this place has earned it the name the Venice of the East, and this time it will be presented using AR to give a real life experience.
The Golden Mouse Family illustrations by Phannapast come from her imagination to present six auspicious wishes: longevity from Grandfather Kāngkāng, health from Grandma Jiànjiàn, blessing from Father Fúfú, wealth from Mother Fùfù, happiness from Brother Lèlè, and goodness from Sister Jiājiā.
"The gimmicks that I added to the illustration are small and humourous details, like the fact that Grandma is always the busiest family member during the Chinese New Year, so I dressed her up and added a lot of items to her, like a fruit basket, flowers, umbrella, and fortune sticks. For Grandpa Kāngkāng, he is wearing an outfit with five bats, which represent longevity, with auspicious jade and five incense sticks to respect the gods.
"Father Fúfú looks handsome in a dragon outfit, holding auspicious buns, while the Mother Fùfù is dressed up just like the Grandma, and she is holding a red handbag with red envelopes inside. Brother Lèlè, the grandson, is playing football, while his sister Jiājiā is riding a wheeled horse. The horse represents hard work and good luck — the horse does not move on its own, but it's you who ride it towards prosperity." 
The artist wrapped up the interview by wishing King Power members and readers good luck by choosing two of her characters — Grandma Jiànjiàn and Sister Jiājiā — for good health and good luck, as she believes that these two are the ultimate wishes for everyone.