Meet the masterminds behind two French brands worth checking out Boll & Rava and Ace Denim. The dynamic duo are here to spill the beans on how to create distinctive brands to capture the hearts of the millennials and reveal what drives them towards the path of success.
Bertrand Boll and Guillaume Rava are the masterminds behind two ultra-unique brands; Boll & Rava and Ace Denim. The former brand paved the way in turning stiff formal wardrobe into chic unique comfort for men while the latter delivers sophisticated French denim experience for denim enthusiasts. After making a big splash in the fashion world with their debut collections, they opened up their first Asia flagship stores in Bangkok's iconic King Power Mahanakhon Building.
We were lucky to catch up with the duo near the end of February at their exclusive press conference at their stores in King Power Rangnam. Boll and Rava unfold how they come to create powerful and engaging brands that are capable of penetrating their own niche market plus how the manufacturing process of their jeans have significantly lessened an environmental footprint. They also confirm the latest collection of Ace Denim and that we can expect 2020 to be jam packed with activities.
Elegant/Sophisticated/Stylish/Comfortable
Timeless, yet contemporary, Boll & Rava boasts a fine combination of French and Italian craftsmanship who also work for the world's powerhouse names in fashion. The brand use rare and luxurious materials and fabrics. They may be the new kids on the block but they have a strong background in fashion and art direction as well as a robust relationship with the best craftsmen and suppliers. Guillaume Rava studied fashion in Paris, France and Bertrand Boll studied fashion in Milano, Italy.
The two met during their studies and collaborated with the now famous Vicomte A. and previously gained notable success through their collections for leading brands and renowned sports teams including the Leicester City Football Club – the winners of English Premier League title 2015-2016.
The cosmopolitan designers enjoy travelling the world in search of finest materials for their works. They were complimented during their travel about their stylish outfits and decided to launch a collection especially for globetrotters. In 2015, they had their first opportunity to present their first suit for travellers on French national TV channel and BFM TV. The rest is history.
Boll & Rava debuted their first collection – a blazer with immaculate tailoring made of luxurious 160s wool, a beautiful shirt made by Thomas Mason white Popeline 120/2 with anti-sweat patch under armhole, a chic "Loro Piana cashmere" jogging pants, a cashmere/silk scarf and a document folder made of alligator from the Niles crafted by an Italian artisan.
When asked about the reception of their first collection, Guillaume said, "The feedback has been really good. Our products in Paris were greeted with warm reception especially during the weekends when the shop was visited by a lot of people". He added, "Our strategy was an entry price point to attract demanding customers nevertheless. We believe the price matches well with the quality because we use rare, premium and luxurious materials and our designs are versatile which are ideal for mix and match. Our blazer exudes an elegant, classy and formal look or an effortlessly casual cool depending on how you combine it with other clothes or accessories.
"You can never go wrong when choosing our designs. It's crafted to make one look good always. At first when you show it to your girlfriend, she might feel indifferent towards it but she will change her mind and thank you when she discovers it later that it's made from an excellent rare materials which makes it easy to iron", said Guillaume jokingly.
We probed further where they got the inspiration to create this fine creation from. Guillaume revealed that, "Our inspiration comes from travel experiences. We saw beautiful lights and positive energy. Thailand is blessed with stunning night lights; decorative lights on top of King Power Mahanakhon really impressed us and influenced our design immensely. Do you know that our anti-sweat patch was inspired by Thailand's humidity?"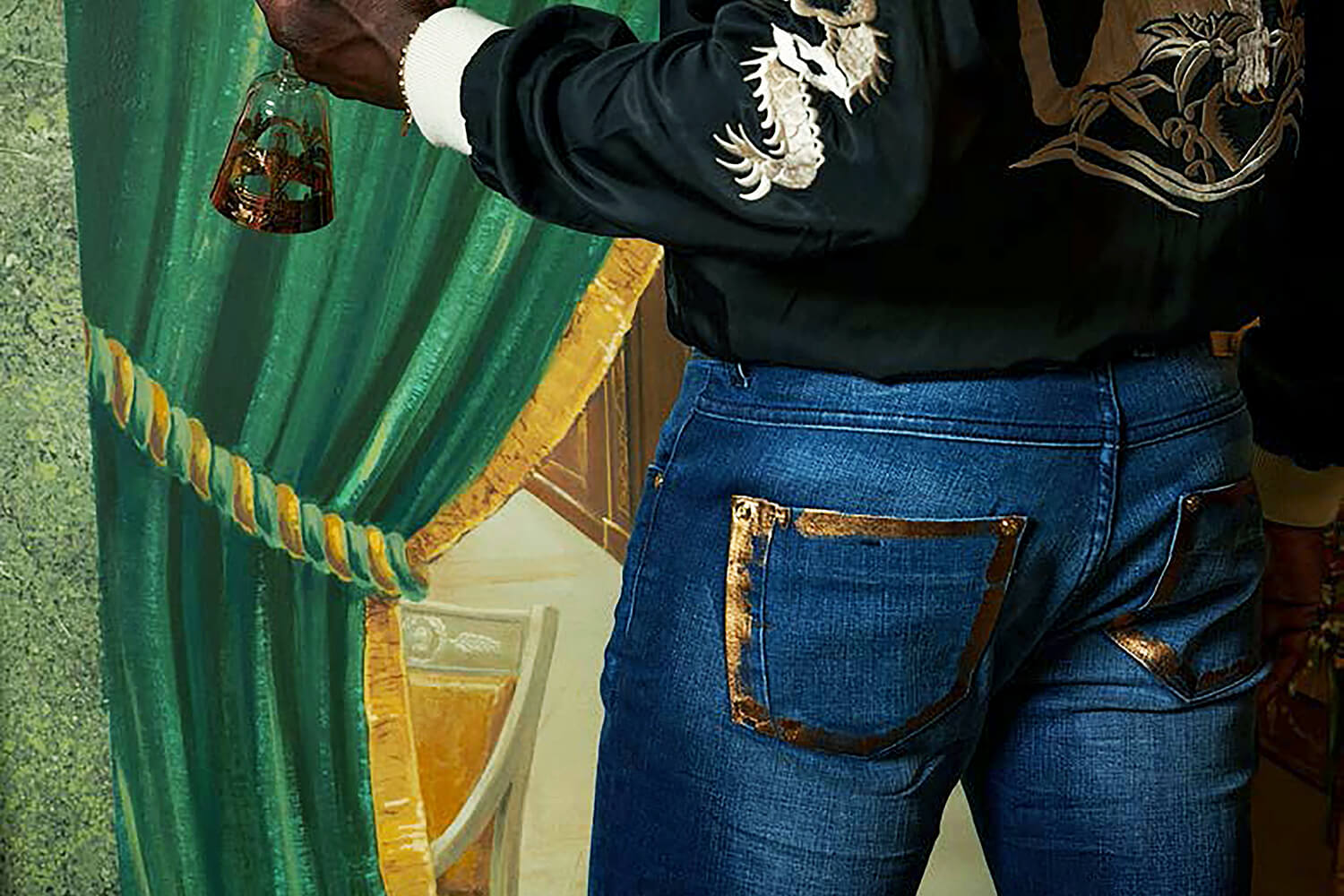 Ace Denim has an outstanding design and made from fine fabric; 98% cotton and 2% elastic, making it soft and comfortable to wear and move around. Apart from a copper zinc plate, their jeans are also adorned with unique buttons and zippers with cool and vibrant embroidery and silicone tag in glowing colour for a modern touch.
Awake Your Conquering Spirit
The two walked us down the inner fashion zone to discover the Ace Denim products. The simple and minimal interior invites you to explore and the visual merchandising is harmonious. Jeans with colorful hemming catch your eyes instantly.
Guillaume told us that, "We started Ace Denim two years back. In our mind we have this brand image of a conquering spirit; strong, confident and ready to face the obstacles in any situation".
He added that Ace Denim is an eco-friendly denim made in a technically-advanced factory in Dubai where the amount water used in the manufacturing is a lot less than that used in other factories".
"We also use laser annoblishment technique in the process nano bubble scrubbing reduce water consumtion significantly and making patterns", Bertrand Boll added.
Ace Denim has an outstanding design and made from fine fabric; 98% cotton and 2% elastic, making it soft and comfortable to wear and move around. Apart from a copper zinc plate, their jeans are also adorned with unique buttons and zippers with cool and vibrant embroidery and silicone tag in glowing colour for a modern touch. Every customer will receive a complimentary bead bracelet as a gimmick to match with the hem colour and is allowed to further create a collection through mixing a combination of all different colours.
When talking about the selling points of Ace Denim, Bertrand Boll thinks that one of them is the perfect fit of Ace Denim jeans. It snugs nicely with your body especially from the upper thigh down to the lower thigh. Its length stops at the ankle which is on-trend. Ace Denim is not the same as others jeans in general. Most of them are way too long. Ace Denim is a must-have item for a proud owner to feel confident of being a true trendsetter with the perfect style and cut.
Pointing at the Ace Denim he was wearing that day, Guillaume explained that, "We wear it exactly up to the ankle only. This is the only way to go. If you buy our denim, there'll be no hassle of having to go and cut it to have a perfect length".
Guillaume continued stressing the importance of sizing calculation when drawing the pattern for sewing. Measurements of men in each region differ so the calculation must be in proportion with their body structure".
Guillaume also confirmed that come April the Ace Denim new collection will be dropped in Thailand and Paris simultaneously. Expect denim made from finest fabric which is stretchy and comes at a lighter weight so wearers can move around more freely.
The Year Packed with Events and Campaigns
2020 is an eventful year full of excitement for Boll & Rava and Ace Denim. The prolific duo's market expansion in cities that are big on jeans is in the pipeline; Los Angeles in the USA and Tokyo in Japan. More stores are also planned for Paris.
To create a wider appeal of for Ace Denim, the duo collaborated with global names in arts and sports. Together with one of their collaborators – an Italian football player, Ace Denim has launched a limited-edition of golden-rimmed denim in March. Only 20 pairs of denim along with special golden bracelet will be on sale.
"We chose to work with sports players or those who are passionate about sports because we believe that they are our best brand ambassadors who can portray the personality of our brand very well due to the conquering spirit. They have an instinct of a fighter and are always eager to win", Guillaume wrapped up our conversation with the overall brand positioning and concept of Ace Denim's brand building.
Last but not least, this year Ace Denim will unveil a new campaign in Thailand with a grand collaboration with Muay Thai champion. Stay tuned for more details on who that champion would be. All we can reveal is that you are in for a big surprise!