PHOTOGRAPHER
SUPACHAT VETCHAMALEENONT
The end of the year is fast approaching. In this issue, Power magazine celebrates the festive season with an extravagant fashion set filled with holiday joys, featuring good-natured actor "Pae" Arak Amornsupasiri who will bring happiness to our readers.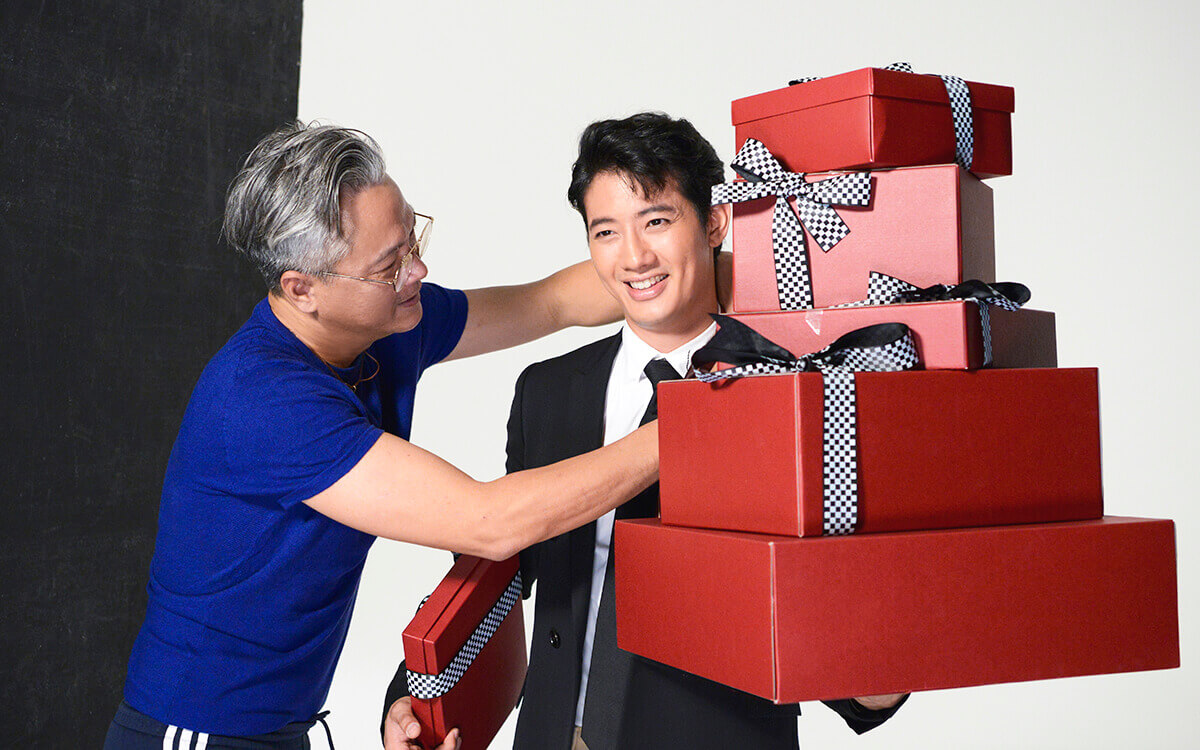 The shoot takes place in a bright and sunny morning, headed by stylist Sanshai Jirat Subpisankul as director of happiness. He goes all out with props for this special shoot, as well as clothes and accessories from the winter collection. 
 "Since this is a December issue, the concept is to celebrate. Joining Pae are two models to add extra happiness, and the highlight is our special prop, a black convertible Porsche 356 Speedster belonging to 'George' Tada Varich, our photographer today," said the stylist.  
Our main model arrives at the shoot and greets everyone casually. His eyes widen as he spots the props in front of him.
"I'm already excited — there are so many props!" said Pae. "This is my second time working with Power magazine. My first time, which I still remember clearly, was five years ago at Suvarnabhumi Airport. At the time my hair was still long! Today, the concept is just what I like. Sanshai and I have worked together many times, but we don't get to meet often. I think he's so cool. I've worked with George too and he's amazing." 
After greeting the stylist and the photographer, he talks about what he's doing. "This year I had a lot of TV dramas but they have all wrapped up, so my fans will have to wait until next year to see me in a TV drama. I am working on my new album which features five songs. I'm very excited about it."  
He says it's been a busy but great year. He worked on Khun Phan 2, Bangkok Naruemit, and a Korean series remake "Oh My Ghost" all at the same time.
"So far, I'm happy with my achievements this year, but not so much with my lifestyle. I worked hard and did not have time to take care of myself. Partying is out of the question. If I had a bit of free time, I would go out of town or overseas. Now things have slowed down a bit and I have time to work on my music and exercise. All in all, it's been tiring, but well worth it."  
If you're wondering if he has a special New Year countdown plan with anyone, he says he has nothing lined up, but will definitely go somewhere. He spent the New Year in Bangkok when it's quiet and felt it's too depressing. "I tried spending the New Year here, but it didn't really work. I think this year I'll just tag along wherever my parents go, or maybe my friends." 
He also takes this opportunity to wish Power magazine readers a healthy and prosperous New Year filled with love. He adds that he also wants to wish himself exactly that.