What you would see on almost anyone's IG feed right now is inevitably something to do with surfskate. This is definitely the "IT" thing that everyone is talking about. It all started with actors and influencers posting pictures of themselves surfskating on social media. Before you know it, suddenly surfskating is everyone's newfound love. FOMO or not, people start scrambling to own their board.
But what exactly is surfskate?
Surfskate is a combination of skateboard and surfing which rider glide on with the slight shift in weight of your body and carve your way without ever needing to push your foot on the ground to gain speed and direct the board.
You need ample space to cruise, show off your skills, train the balance or tumble around. In the urban area, you tend to find surfskaters around car parks, big space lying underneath elevated expressways, public parks or even malls where they arrange for a playground dedicated for surfskaters such as King Power Srivaree which is now the weekend meeting point for skater boys and girls in Bangna – Lat Krabang neighbourhood. from now until 11 April 2021.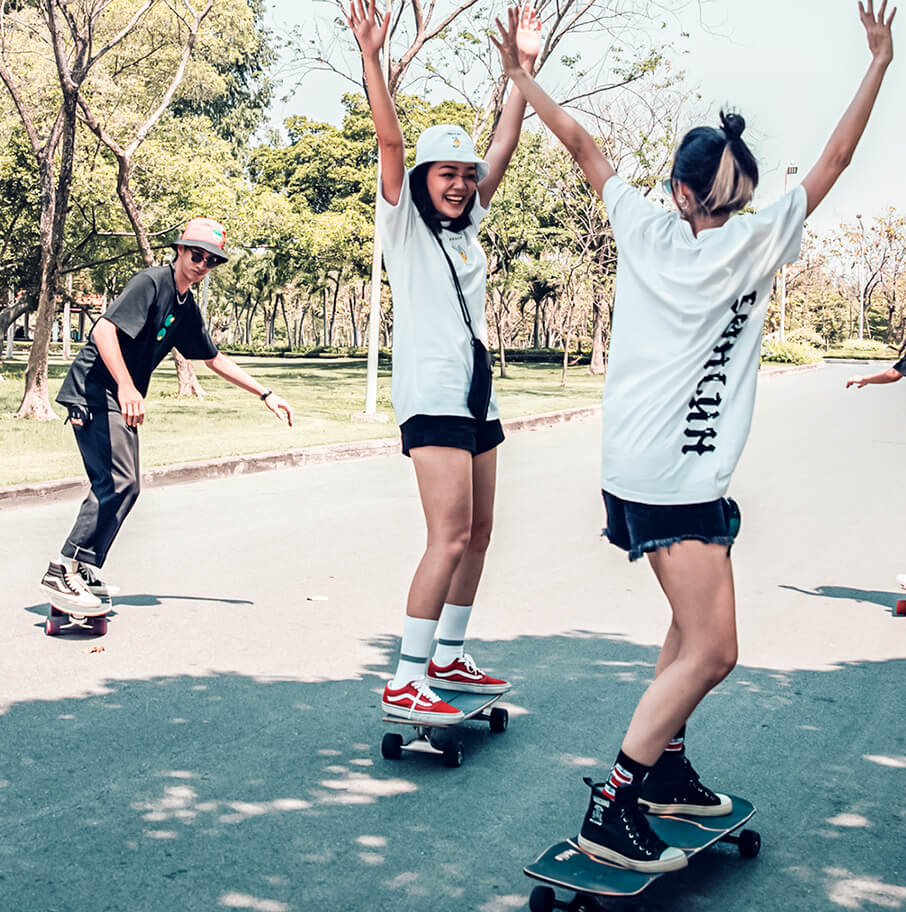 How does surfskating attract a legion of followers?
Firstly, it seems anyone can enjoy it regardless of whether they are not a pro-skaters or extreme sports athletes, boys or girls, young or old, big or small. In other words, whoever you are, you can cruise around and let the wind blow in your face. The sport gives you much joy and allevieate your stress as well as let you be a part of a small surfskate communities.
Last but not least, surfskate has become a sport of choice for youngster these days is because it expresses riders' lifestyle and tells a lot about who riders are. The pattern on a board and the style of their gears reflects the personality of riders making surfskating an even more enticing sort of sports. For Thai riders, Mahanakhon has just the right activewear fit for cool surfskater boys and chic surfskater girls ranging from bucket hats, casual fun t-shirts to flat-heeled sneakers. Check them out online from the links down below.