"Each of us is as intimately attached to the soil of this beautiful country
 

as are the famous jacaranda trees of Pretoria and the mimosa trees of the bushveld —

 

a rainbow nation at peace with itself and the world…" — Nelson Mandela, 1994
PHOTOGRAPHY
SAKDA PHAENSOMBOON,
NISARAT SITASUWAN,
SOUTH AFRICAN TOURISM
WHEN RAINBOW AND GOLD FORMED
THE NATION
At the tip of the African continent is a nation of colours, tinged with colourful stories of history, people, cities, nature, animals, traditions, tribes, arts,  flowers, and sports, as illustrated on the country's 6-colour national flag. 
South Africa is rich in history, with many interesting moments that will captivate those who love history. Reading about its history feels like reading a well-written novel. For travellers, South Africa is home to the best in many aspects, from breathtaking views of nature, blessed with gorgeous mountains, meadows, forests and seas, to vibrant cities and the best wines of the world.
Formerly under Portuguese, Dutch and British rule at the Cape of Good Hope, Western influences seeped into the country and clashed with the Zulu natives and other tribes. The discovery of diamonds and gold brought even more White Men to the country, and more clashes ensued. After the World War II, the Union of South Africa was formed, and the political climate at the time led to racial discrimination that resulted in the country being sanctioned.
The fighter for freedom of South Africa Nelson Mandela spent 27 years in prison (1962-1990), and the rest of the world pressured South Africa to end its institutionalised racism. He was the country's first black head of state, and then the world embraced South Africa by honouring the country to host the 1995 Rugby World Cup and the FIFA World Cup 2010.
Now that you know a bit about the country's history, let's explore it. 
When you're in Pretoria, visit the Voortrekker Monument, raised to commemorate the Voortrekkers
VOORTREKKER AND JACARANDA IN PRETORIA
Once you've arrived in South Africa in Johannesburg, which is a business city,  you can explore Gold Reef City, which is a vintage amusement park located on  an old gold mine. Here, you can also experience daily demonstrations of pouring molten gold and visit a museum dedicated to gold mining.
From the bustling city, go for some peace and quiet in Pretoria, which is particularly beautiful in spring (October) when the city transforms into a glowing purple mass as Jacaranda trees are in full bloom.
When you're in Pretoria, visit the Voortrekker Monument, raised to commemorate the Voortrekkers who left the Cape Colony into the interior of modern South Africa. As the Voortrekkers progressed further inland, they continued to establish Boer settlements on the interior of South Africa in 1835-1854. "Voortrekkers" in Dutch means "pioneers".
The battle between the Zulu and the Voortrekker Boers in South Africa eventually ruptured the lives of hundreds of thousands of indigenous people. However, this part of history made the country what it is today. This large monument also includes panels depicting the history of the Great Trek, as well as references to everyday life, including carriages which have become known as symbol of South Africa's history.
After the Zulu Empire came to an end, while most of their traces have gone, travellers can travel back in time, sort of, at Sun City Complex, which includes The Palace of the Lost City, where visitors can enjoy ancient African history. It is a world-class destination today, with a golf course and one of the most advanced water-parks.  
The Palace of the Lost City is beautifully decorated with sculptures of African animals, as well as a 1:1 bronze elephant statue of one of South Africa's most famous elephants, Shawu, who died from old age in 1982. The chairs, carpets and other elements are in animal prints, and visitors can take lavish photos as if they were kings and queens of Zulu.
Not far from the Lost City, if you're looking for a safari experience, Pilanesberg National Park is not too far away. If you're a serious explorer, don't miss a trip to Kruger National Park.
Kruger National Park is one of the country's biggest national parks, covering an area of 19,485 sq km. It is home to various African animals, including the Big 5 (elephant, lion, leopard, rhino, buffalo), as well as lush trees. Around the park, there's a Private Game Reserve with 5-6-star hotels to choose from. You can have breakfast near a leopard, or take an afternoon dip in the pool with a giraffe walking around.
Game drives in Kruger National Park offer a good chance of sighting the Big 5. You might have seen a viral video of a pride of eight lions blocking a road — that was taken at Kruger National Park.
AT THE CAPE AND ON THE TABLE
From Kruger National Park in the northeast of the country, head south to Cape Town.
The story of South Africa actually began at the Cape of Good Hope, the dividing point between the Atlantic and Indian Oceans. It is famous for its wild seas and the violent winds, and in the past, seafarers from Europe found it almost impossible to go through this stormy patch. Many lost their lives here, leaving behind many scary legends.  
Portuguese explorer Bartolomeu Dias was the discoverer of the Cape of Good Hope, followed by Vasco da Gama, the Dutch East India Company and the British Settlers. Therefore, the places around here have European influences, from Dutch homes and vineyards to British gardens. Today, Cape Town is a modern city as exciting as European and American cities, with Victoria & Alfred Waterfront, Bo-Kaap colourful neighbourhood, and Table Mountain with a flat surface. On a nice day, you can see beautiful views from up there, but when it's cloudy, you can see a blanket of clouds covering it. 
Cape Town is also an important part of Nelson Mandela's life as he was imprisoned on Robben Island, an island in Table Bay, near Cape Town, for 18 years (out of the 27 years he spent in prison). Today, Robben Island has become a famous destination where visitors can pay tribute to Nelson Mandela's fight for freedom.
SEAL, PENGUIN AND OSTRICH
The shores of Cape Town are steeped in history and natural beauty. Along the Garden Route, the lands and the seas, everything is fantastically lush. There are many fur seal colonies you can visit, and of course, as there are many seals, there are also many sharks in that area. If that's your cup of tea, you can go on an amazing shark cage diving trip (which is safe, because you'll be in a cage).  
If you're not much of a sea person but want to be close to animals and nature, you can check out penguins in South Africa conveniently. There are also ostrich farms where you can get to know them, stand on their eggs, ride on their backs and buy products from their eggs and skins.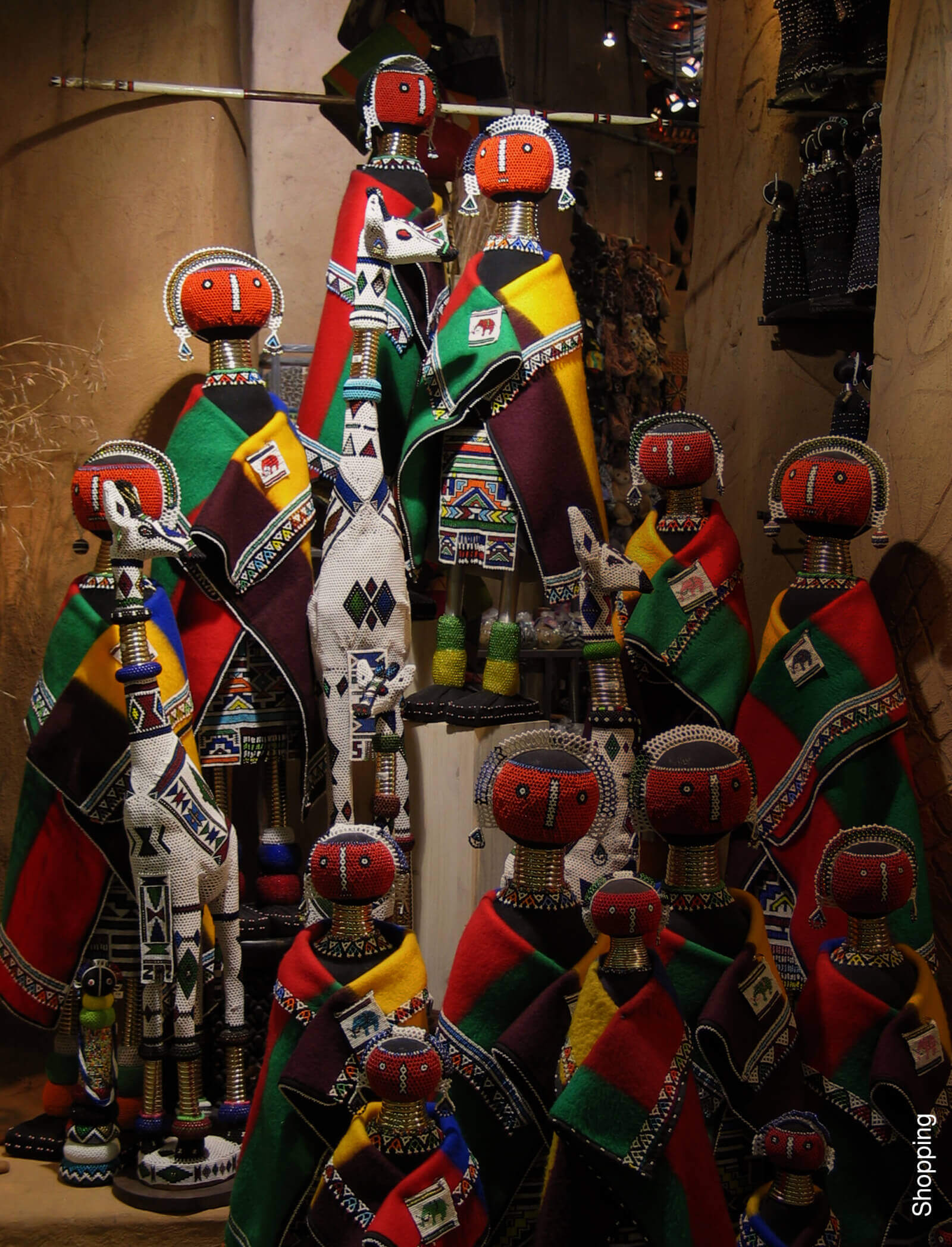 Gold bullion and gold collectors are familiar with the South African Gold Krugerrand, one of the first bullion coins made for investment purposes since 1967. Today, they are widely collected and considered great investment. Struck in 22 karat gold, South African Kruggerands contain exactly 1 oz of pure gold. They are not easy to find, but apart from that everything else can be easily found in South Africa, as this is a shopping paradise.
African Craft Market of Rosebank in Johannesburg and V & A Waterfront, Cape Town are places where you won't be able to resist spending money.
Cape Town is South Africa's fashion capital, with many high end fashion and accessories boutiques offering African heritage and fashion trends, made in Africa. 
What you should not buy while you're in South Africa is wild animal parts such as leather, fur, bones, fangs and tusks. You can, however, take photos of the animals you encounter along the way.
1. Thai people can travel to South Africa without a visa and can remain in the country for up to 30 days.  
2. There are no direct flights between Thailand and South Africa, but you can make a stop in the Middle East and other African countries. 
3. If you are only travelling in South African cities from Johannesburg to Cape Town, you do not need vaccination for yellow fever.  
4. If you're visiting Kruger National Park or the northern part of the country, vaccinations against yellow fever are required, and consult your doctor about malaria prevention.
5. The weather in South Africa is opposite to Thailand — its summer is during November-February, and winter is June-September, during which the temperature could drop to single digit.
6. South Africa has 11 official languages and most black South Africans speak isiZulu and isiXhosa languages while white Dutch descendants speak Afrikaans. English is also commonly spoken.
1. Long Walk to Freedom by Nelson Mandela is Nelson Mandela's autobiography.  
2. Cry, the Beloved Country by Alan Paton illustrates lives of black people in the age of racial discrimination. 
3. Jock of the Bushveld by James Percy FitzPatrick tells a story of a British man and his faithful dog as they explore South African forests in the late 19th century.  
4. Shaka Zulu: The Rise of the Zulu Empire by E. A. Ritter is a story about the Zulu Empire which ruled South Africa before the European seafarers arrived.