King Power believes that Thai people are as great as anyone in the world, and this has sparked
the idea behind "King Power Thai Power", a CSR project which aims to inspire Thais to go
further and achieve international success in various aspects, from sports to music and community.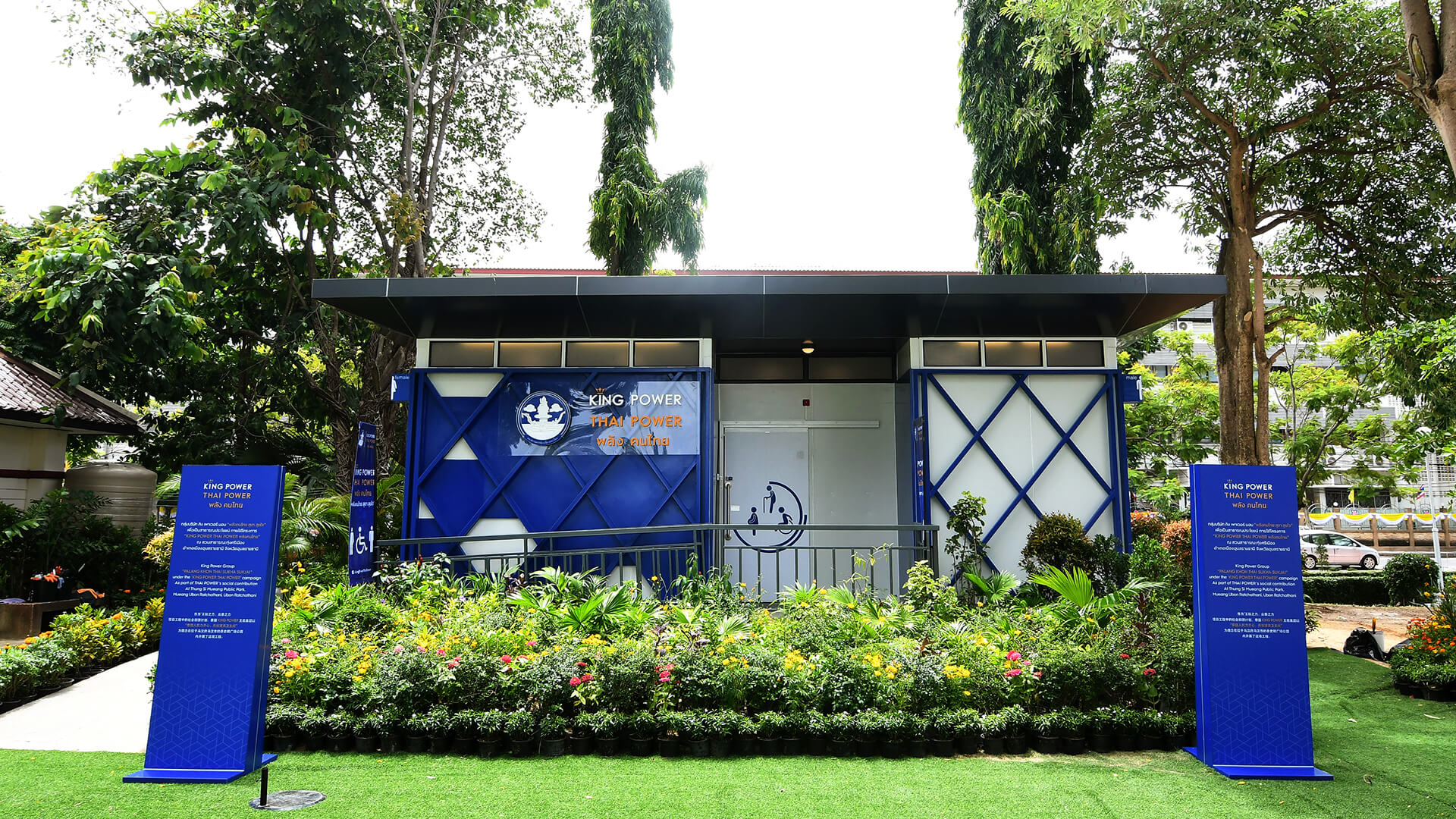 Over the past three years, there have been many projects under King Power Thai Power, reaching all the 77 provinces in Thailand in more than 3,000 communities. For sports, King Power has given away a million footballs through "Million Footballs, Million Power, for Thai Youth Dreams", and there were also "100 Football Pitches for Thai Youth Power" and the "Fox Hunt" to find rising stars in football who will receive scholarships and training in Leicester City Football Club in the UK.  
For music, King Power has ignited the passion of Thai musicians by supporting the "Thailand International Wind Symphony Competition" for the third consecutive year in order to allow Thai youth and music lovers to showcase their skills and achieve international success.  
For community, to show the world that Thailand has many great assets, King Power has joined Thai communities to highlight their local legacies and unleash their creativity for the world to witness.
Additionally, King Power Group also partnered with the Ministry of Tourism and Sports to support Thai communities through "King Power Thai Power: Sukha Suk Jai" to offer universal design toilets for communities in tourism areas. These toilets are designed for men, women and those with disabilities, and they are clean and safe for all.  
These are some of the examples of how King Power has committed to bringing together the power of Thai people to go further and become even greater than ever.  
THE POWER OF MUSIC TO SHOW THAI'S TRUE TALENTS
"What we lack in Thailand's music industry is not talents, but opportunities to take our talents to reach their full potential." 
That was part of the speech by Dr. Narong Prangcharoen, Dean of the College of Music, Mahidol University, and he was delighted when King Power, who also believes in the power of Thai people in music, joined the Thailand International Wind Symphony Competition (TIWSC), the ultimate music competition with a royal trophy from His Majesty King Maha Vajiralongkorn, which is now in its third year. 
"There was a competition like this in Thailand, but due to budget limitations, it was put on hold for several years. King Power was committed to inspiring Thai musicians, and discussed with Mahidol University, who is ready to support music skills, to bring the competition back once again. There were some changes to the name and criteria to make this more than just a competition, but a big wave in our society." 
Another special highlight that has never happened before is the change in categories in the competition. There are now four categories: Class A is wind symphony, open division. Class B is wind symphony, student division. Class C is small wind ensemble, open division. Class D is small wind ensemble, student division. 
"We have open division because we want to give freedom to people to showcase their music skills, regardless of their gender, age, or nationality. As long as they love music, they can showcase their skills. This is the only competition in Thailand to be open like this.
"In the first year of the competition, I teased the winning team that they were even older than me. I was really impressed when they told me that they were not in the competition to win, but just to play music. To perform in the Prince Mahidol Hall was a once in a lifetime experience for them, and I think that's the spirit of musicians. This is what Mahidol University and King Power want to see — for music lovers to come not just to compete but to enjoy music and create friendship. The atmosphere is very friendly, and it doesn't matter who wins, as everyone is ready to congratulate each other. This is a competition where musicians not only achieve their dreams but also come together to form friendship through music."
What makes this competition recognised by every party is its transparency and fairness. In each round, there are Thai and international judges, and in the final round, there are special judges who are famous and recognised in the music circle. Thai musicians who make it to the final round also get a great opportunity to join a conducting workshop with world-class music gurus.  
Dr. Narong also added that the competition does not end when the winner is announced, as each year there is only one winner. Those who do not win are also inspired to keep improving themselves. "Even if you win this year, next year you might not win again, because each band has to keep improving. Sometimes, it is hard to convince musicians that they have to keep improving, but being in a competition like this stimulates them to go further and know where they stand. If you lose this year, you can look at the winner and try to be even better than them, just like athletes who have to set a new record."
The goal of the competition, according to Dr. Narong, is to elevate its status to an international level. "Within 3-5 years, this will be a competition that international musicians want to join. Over the years, there are about 10-15% of foreign participants. Thai youth or musicians do not have to spend over a million baht to entre a competition overseas. In the future, our competition will be globally recognised. This will help bring fame to Thailand and generate income for the country as well." 
Dr. Narong added that Thai people are talented and can compete internationally. They only need support from the government and big companies. "I believe that when Thais really put their mind to it, they can succeed. King Power has opened up new opportunities, and I believe that we will see more and more Thais on an international level."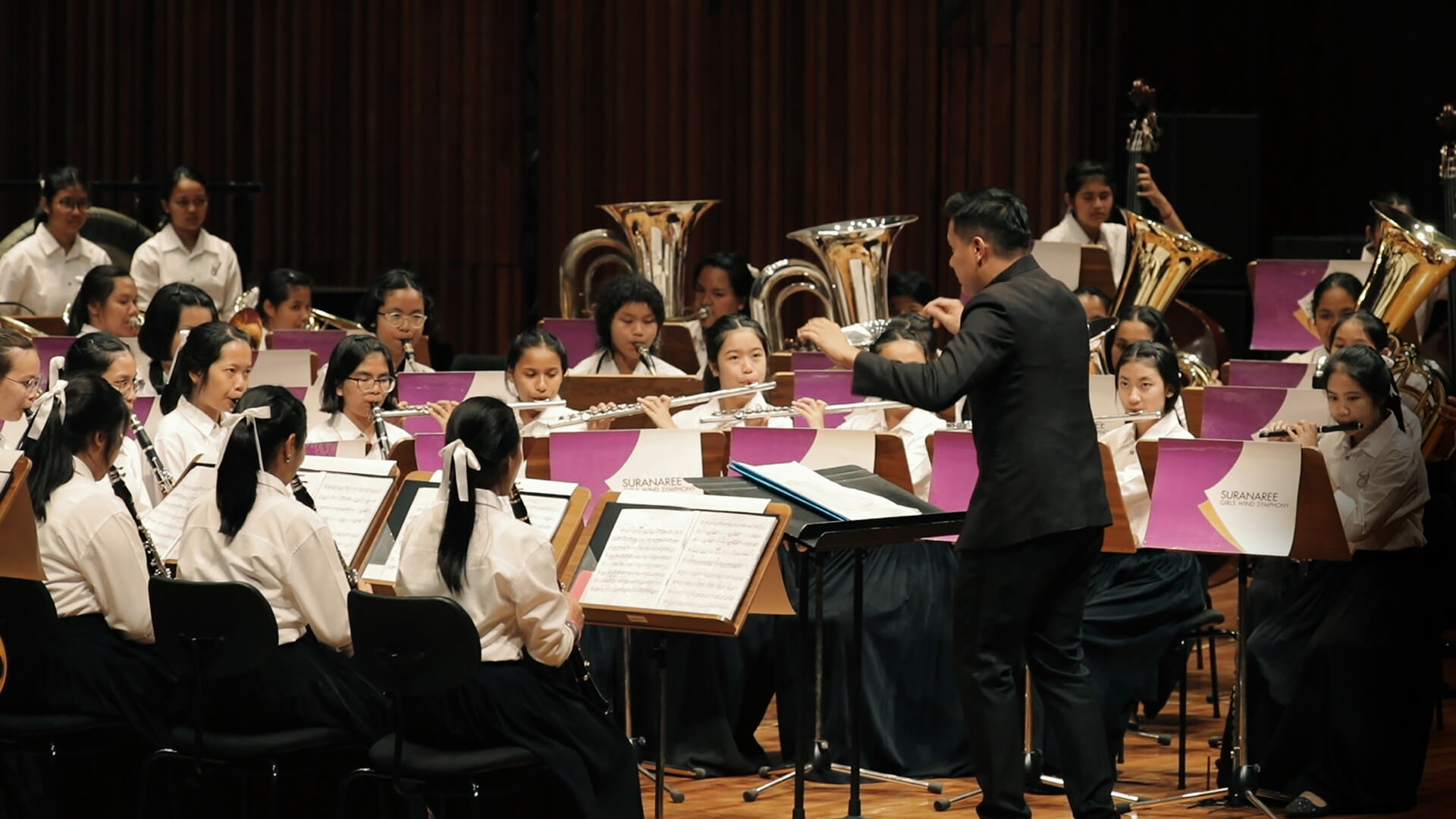 We have open division because we want to give freedom to people to showcase
their music skills, regardless of their gender, age, or nationality
MISTAKES ARE THE GREATEST TEACHERS
Prince Mahidol Hall was filled with a loud round of applause as soon as the winner of TIWSC was announced, and that sound still echoes in the mind of the 80 members of Suranaree Girls Wind Symphony, an all-girl band from Suranaree Witthaya School.
They were overjoyed by their success, which was a result of their hard work and dedication. The band from Nakhon Ratchasima achieved their dreams, thereby showing the world that girl power can be amazing. 
Apivut Minalai, the conductor of the Suranaree Girls Wind Symphony, said that the band was formed in 1983, but changed from a marching band to a concert band in 2015 because the school wanted to take the students' skills to the next level. The members of the band are students in Grade 7-12 who are passionate about music.
"When they practice, I never pressure them that they have to win, because winning doesn't matter as long as you try your best. I think it's good to send our students to competitions because they get to showcase their skills, otherwise it's almost impossible for them to perform in a place like the Prince Mahidol Hall. If they were to have their own concert, there's a lot of expenses and steps involved, and there's no guarantee that a lot of people will attend. Having a competition like this is a golden opportunity and makes them want to try their best."
On their victory, Apivut said it's a result of every team member's hard work and dedication. They had learned from their previous mistakes and experiences to improve themselves. "In the previous year, we won the Gold Class classification, which is for those who score more than 85, but we were not the winner. We took home the loss and used that as a fuel to keep practicing and getting better. Eventually, we made our dream come true and won in the toughest competition."  
From the victory at the Thailand International Wind Symphony Competition 2019, the Suranaree Girls Wind Symphony went on to win many other prizes such as the Gold Medal Certificate.
"I always believe that Thai youth have a lot of potential but they do not get enough opportunities. King Power's support makes them see that they can make their dreams come true through music," said Apivut.  
For me, I believe in the power of Thai people. We are great, and when we unite,
great things are always possible, and success is within our reach
LOSSES ARE STEPPING STONES TO SUCCESS
Love for music does not fade with time, and "Big" Supat Hanpatanachai, a member of the Siam Saxophone Quartet (SSQ), always enjoys playing music in the band he established 12 years ago.
The SSQ has gained many experiences since its establishment in 2008. After just a year, it won in the Asian Symphonic Band Competition 2009, which paved the way for the band to perform in many countries like Slovenia, France, Japan, Croatia, Singapore and Canada.
The band members are now the third generation, but as a founding member, Supat has remained with the band and is committed to elevating the status of Thai musicians to an international level.  
"I've played music since I was little, and now I'm a music teacher. For me, a competition helps you realise your skills beyond winning. We've had many new band members, and now they are the third generation who have been with the band for three years now. Our band members must have a positive attitude towards music, and I believe that this mindset will lead to quality."  
Thanks to his solid love for music and his constant practice, when he heard that there's a TIWSC, the SSQ was very excited.  
"The first year we joined the competition, we didn't win, but in the recent year, the SSQ won the runner up prize in the Class C category in the open division. I also play with the Bangkok Saxophone Collective which was in the Class A category and won the second runner up prize. For 2020, we will try again. It doesn't matter if we win or lose — just getting to perform at the Prince Mahidol Hall, which is the most equipped music hall in Thailand and the only place designed for acoustic music, the ultimate destination for musicians, is a great opportunity. We will try our best because this is the biggest moment in music."
Supat, also known as Ajarn Big, also said that as a music teacher, he understands that musicians are under a lot of pressure when they are in a competition. It's not because they're afraid they will lose, but they want to do their best so they can see where their band stands. Whether they win or not is up to the judges.
"For me, I believe in the power of Thai people. We are great, and when we unite, great things are always possible, and success is within our reach. In music, over the years, Thailand's music has improved significantly, and the world is watching. Having support from big companies and having a big competition like this will help drive improvement even further," said the avid musician.
Thainess was admired internationally once again when Leicester City FC donned special jackets
in the club's Boxing Day match against Liverpool on 26 December 2019
BANN KIRIWONG TIE-DYE FABRICS IN INTERNATIONAL SPOTLIGHT
Thainess is admired internationally once again after Leicester City FC donned special jackets in the club's Boxing Day match against Liverpool on 26 December 2019. These special jackets are made using distinctive combination of techniques from Baan Kiriwong community in Nakhon Si Thammarat to create in a unique golden yellow amber at the rim and Takhian Pom community in Lamphun to produce indigo gradients at the top. The jackets are adorned with LCFC crest over the left chest, the flag of Thailand on the left arm and the flag of the UK on the right arm.
The story behind the jackets is hard work and dedication from villagers in a small community in Southern Thailand who turned their local ingredients into natural dyes and used their iconic local wisdom to show the world the power of Thai people.  
In addition to the jackets, there's also limited edition environmental-friendly Leicester City's collection From Leaves to Lively Thai Dye collection, borne from age-old techniques from Thailand's rural communities, celebrating the beauty of Thailand's fertile nature. The collection includes long-sleeve and short-sleeve T-shirts, shirts, caps, bags, balls and keychains; 17 items in total. 
One of the persons behind this powerful collection is Urai Duangngern, leader of the Bai Mai group in Baan Kiriwong village. She has a strong tie with her hometown, and after working in Bangkok for a while, the 20-something decided to leave her life in Bangkok and return to her hometown. She said that at the time, the roads were still bumpy and the village had no electricity or irrigation system. The locals made a living mainly from agriculture. "When I returned, I tried to find a way to help the locals earn extra income because agriculture wasn't enough. They needed an extra source of income, but the question was what that source would be. At the time, many organisations supported the locals to process their produce, but it wasn't sustainable because those products could only be sold domestically, not internationally." 
At the time, Urai thought about making textiles, and 20 years ago, the market did not have a lot of local textiles, so that was a good opportunity. She saw that eco-friendly trend was also strong, so she thought about dyeing cotton with natural dyes, which was something the Baan Kiriwong village, blessed with abundant plants, was good at.  
We want to thank King Power for making this dream a reality, because we get to showcase our power.
We are happy to play a role in showing the power of Thai people for the world to see
"In the beginning, we invited a master to teach basic dyeing, and after that we tested and learned. One of the things that the master taught us was that every plant can be used as a dye, so it's all about testing and learning. A change in temperature or amount of rainfall could change the colour of the dye that each plant gives. It was very difficult at first, both learning about the plants and convincing customers to accept our products. People who really use local textiles must really love nature and honour the locals. They must not look down on locally made products. Each piece of textile is unique, and it involves both art and science. Precision in colour is important, as well as science."  
Over the past 20 years, Urai has seen tie-dye textiles grow more popular, but it can go even further. King Power's support opens a very important door. "King Power contacted us about three years ago, but our collaboration started last year. We were happy to collaborate with King Power, but we wanted to make sure that we were ready. It took time to adjust the way we work and how we plan our production, since part of our products relies on the climate. Our village is affected by the winds from both the Andaman Sea and the Gulf of Thailand, so we have to plan well in case there are not enough sunny days to dry our textiles."  
Preparation is about 60% of the journey, and the other 40% is learning on the job. The villagers have worked with King Power's design team, and in that process, they got to learn new skills in designing and working under a time limit. Everything has to be systematic. Through their dedication and unity, the villagers of Baan Kiriwong community proved themselves that even though their community is small, they are able to complete the orders and proudly produce Thai products for the world.
"Now, our goal is not just to expand our group, but to elevate the quality of our products as well. In addition to our production, we also welcome visitors to come and learn our techniques, because we want to inspire other communities to follow. The new generation won't have to leave their hometown to seek a job elsewhere — they can make a living while living in their hometown. We want to thank King Power for making this dream a reality, because we get to showcase our power. We are happy to play a role in showing the power of Thai people for the world to see," said Urai.
King Power believes in Thai people, including the physically-challenged who are underprivileged.
This is amazing because while we stand up for ourselves, we will need support and opportunities
GLASSBLOWING: A LOCAL THAI CRAFT THAT BRINGS INCOME TO THE UNDERPRIVILEGED
An unexpected twist of fate turned Phop Thepasit into a disabled person at 25 years old. At first, he felt hopeless and thought life was over, but then he realised that there's much more to life when you stop thinking only about yourself. He got up once again to live his life and now he's a representative of the underprivileged to show the world that Thais are great at glassblowing.
"When I decided to give it another shot, I learned more than 30 different things, from making roses from dough to making inhalants, fancy candles, salted egg, banana fritters, gel lamps and bags. I didn't make a lot of money, but I discovered that things that are hard and time consuming do not have a lot of competitors. So, I learned glassblowing because I've always loved art and I have some background in traditional Thai art."
He admitted that glassblowing requires a lot of skills, patience and carefulness. Even with protective glasses and gloves, he must be very careful because the fire is as hot as 180 degrees Celsius in order to melt the glass.
"One time, I spilled a bit of melted glass on my leg. I count myself lucky that I'm partially paralysed, so I didn't feel anything, but I noticed the smell. If not, it would have been a big problem because the heat could really damage the skin. I feel that glassblowing requires a lot of skills. To me, glassblowing is like life — if you are too fast, the glass can break. You have to go slow so that it can bend and stretch. If the heat is too much, the glass cannot be shaped as you want it to."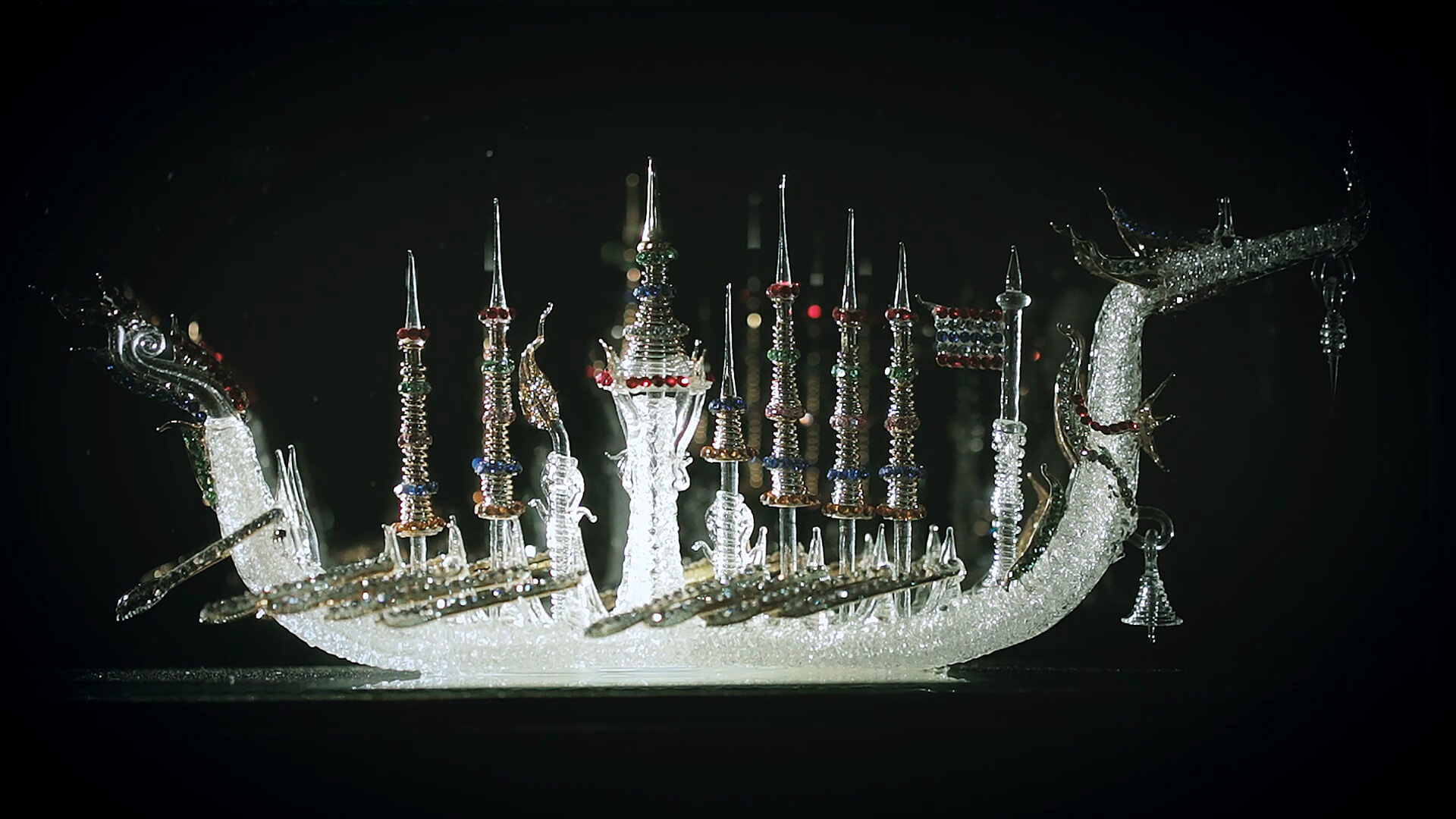 Although there are not many competitors, the business has not been easy either. He did not know how to grow his business, and while the government's support in sharpening skills and offering tools did help, what he really needed was an opportunity to penetrate the market. 
"At the time, the government supported Thai crafts to enter the Asean market, and King Power served as the driving force to get the products showcased internationally. At the time, there were many glassblowing businesses, but King Power saw that we were fitting because our price is reasonable and our products represent Thainess. We use gems and crystals to add value to our products, and we use Thai elements like the national Thai flag, tuk-tuks and elephants to make our products more interesting. We produce elephants in various poses, and we also dress them up, which makes our products different from others in the market."  
With King Power's support, he said his business had grown significantly. In the past, he had to produce his products and wait for people to buy them, but now he knows for sure that they will be purchased. They are available at King Power Duty Free throughout the year, and they are bought by Thai and international customers. Having a definite market helps him and his friends in the Disabled Cooperative have a steady source of income and save money in ordering raw materials. For instance, instead of buying 10 kg of glass sticks, he can now buy 100 kg, which means a better price. King Power also helps improve packaging to meet the needs of international markets.
Phop is determined to come up with new products to make his offerings more interesting, from the Royal Barge to seasonal items such as cupid elephants for Valentine's Day. New items will be introduced every three months. "King Power believes in Thai people, including those with disabilities who are underprivileged. This is amazing because while we stand up for ourselves, we will need support and opportunities. We don't have to be recipients — we can be givers who can take care of our family and contribute to our society," said Phop, who is now the president of Thai Disability Product Service Cooperative.