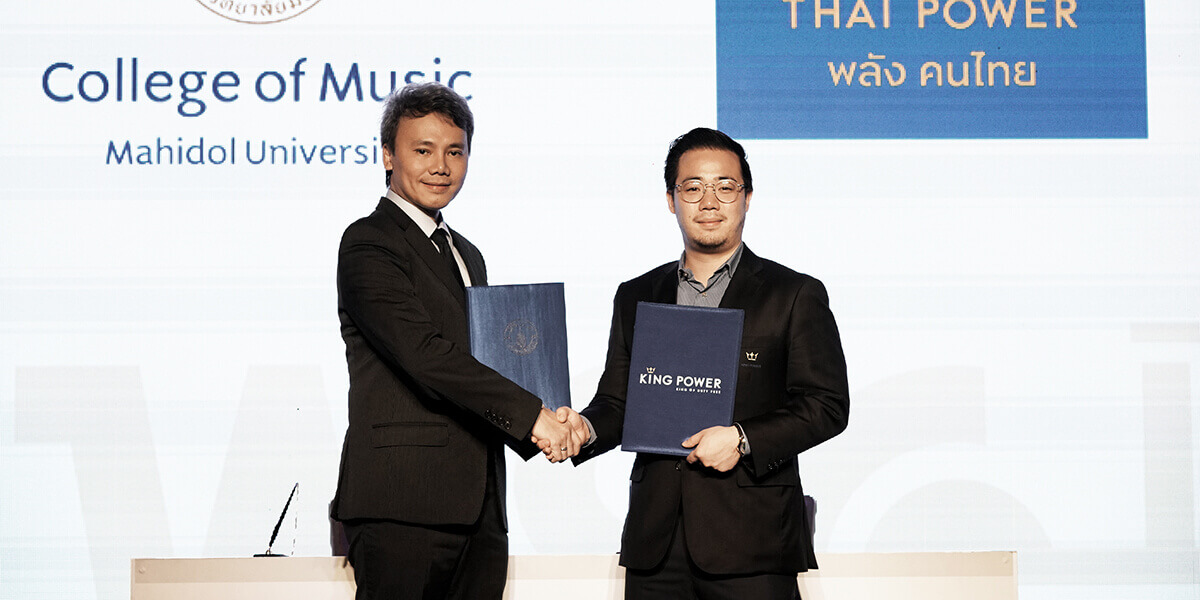 THAILAND INTERNATIONAL WIND SYMPHONY COMPETITION 2018
King Power Group, under "KING POWER THAI POWER", joined forces with College of Music, Mahidol University, to organise Thailand International Wind Symphony Competition 2018 (TIWSC). Aiyawatt Srivaddhanaprabha, Chief Executive Officer of King Power Group, signed the MOU with Dr. Narong Prangcharoen, Dean of the College of Music, Mahidol University, joined by Associate Prof. Dr. Sugree Charoensook, advisor of the TIWSC, King Power executives, teachers, alumni, and current students of the College of Music, Mahidol University, as well as judges and honourable guests at Eternity Room, Pullman Bangkok King Power.
At the event, a special mini concert was presented, featuring alumni Patcha Anek-ayuwat (Patcha AF), "Bowky" Pichsinee Veerasuthima or Bowky Lion from The Voice, Benjamin James Dooley from The Voice 6 who's also currently teaching at the College of Music, Mahidol University, and a special guest "Pope" Thanawat Wattanaputi.
TIWSC 2018's qualifying round selected artists from participants who posted a live show on the College's Facebook page or KING POWER THAI POWER page during 13-14 February. On 16 February, qualified participants were announced. The semi-final round was held during 19-22 March, and the final round on 24 March at Mahidol Sithakarn Auditorium, Mahidol University. The winner for Class A: Wind Symphony was Zalymanian Wind Orchestra, Class B: Wind Symphony was Ratwinit Bangkaeo Wind Symphony, Class C: Small Wind Ensemble (Open) was Quintette Aleph, and Class D: Small Wind Ensemble was Psaiko Quartet. All the winners also performed a concert on 25 March at Aksra Theatre King Power.