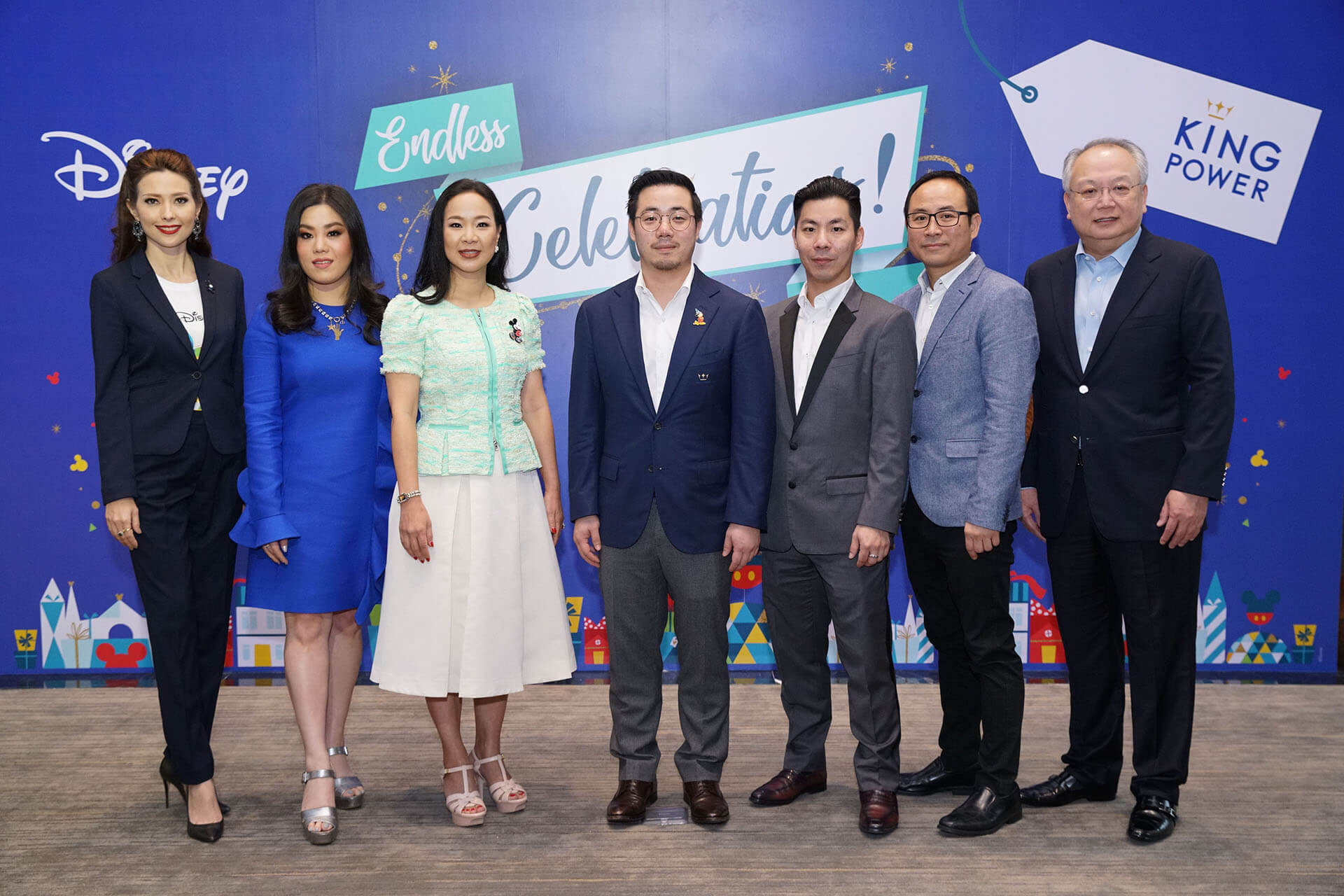 King Power Rangnam collaborating with Disney Thailand to mark Mickey Mouse's 90th anniversary with full-scale celebrations from 2nd November to 27th January, a 3D mapping spectacle and an art exhibit of pai
BANGKOK, 25th OCTOBER 2018: King Power Group, Thailand's largest duty-free retailer, and The Walt Disney (Thailand) Company Limited are joining forces to celebrate Mickey Mouse's 90 years of magic. The Disney character's stories transcend the boundaries of time and continue to impress fans across the globe. The two conglomerates are holding a press conference to unveil "King Power and Disney's Endless Celebrations", a campaign to provide happiness in a festival of endless magic, at the Pullman King Power Bangkok. The campaign marks the beginning of a long-term collaboration between King Power and Disney Thailand to create a phenomenon of happiness, fun and world-class entertainment for Thai fans and international guests at King Power Rangnam.
Mr. Aiyawatt Srivaddhanaprabha, Chief Executive Officer of King Power Group, said, "Mickey Mouse is Disney's global brand ambassador and my favorite cartoon character. I would like to congratulate Disney on Mickey Mouse's 90th anniversary. It's a great honor that King Power is working in close collaboration with Disney Thailand to provide happiness and fun through a number of activities that we're organizing. On this occasion, King Power is planning a program of activities and bringing out vast collections of Mickey Mouse and Disney characters-inspired products including toys, cosmetics, bags and gifts. I hope that the fun activities will bring happiness and smiles to Thai people and international guests in Thailand."
Ms. Subha-Orn Rathanamongkolmas, Country Head, The Walt Disney (Thailand) Company Limited, relates that "Disney and Mickey Mouse have been an integral part of the lives of Thai fans for decades, and Mickey remains a beloved character who reminds fans of all sexes and ages to smile and live with optimism and hope. Our collaboration with King Power aims to provide local fans with great experiences in which they'll get a little more up close and personal with Disney."
The campaign aims to honour Mickey Mouse's 90 years of magic. The character made his first appearance in Steamboat Willie, an American animated short film directed by Walt Disney, on the 18th November 1928.
The campaign consists of a range of fun-filled activities at King Power Rangnam which will be transformed into a wonderland. Thailand's leading stars expected to turn up for the campaign's grand opening on the 1st November include  Artiwara "Toon" Khongmalai with Ratchwin "Koy" Wongviriya; Pakorn "Boy" Chatborirak with family; close friends Kemisara "Belle" Paladesh and Kanyawee "Thanaerng" Songmuang; Nakorn "Ple" Silachai with his four children August, Orca, Allgood and Allgrace; and Phupoom "Ken" Pongpanupak with Esther Supreeleela. They will be touring the venue's six zones:
1. "Celebration Express" is a lovely fun-packed train with the Mickey icon-shaped windows serving as the perfect backdrop for photos. The interior mimics a real train but the windows feature graphic animations of the stunning natural scenery. When on board, one feels as if the train is in motion seemingly on its way to the Mickey & Friends Boulevard.
2. "Garden of Dreams", the first Mickey Mouse-themed garden in Thailand set in the middle of Rangnam Road, could pass for a dream land with a field of fresh, colourful and real flowers. Photo spots are provided with different Disney characters and moreover everyone can have fun with the games and activities in the garden.
3. "Mickey & Friends Boulevard" is designed like a real street complete with shops and activities. Decorations on both sides of the buildings are inspired by some of the Disney characters in amusing antics. These include Mickey Mouse, Minnie Mouse, Pluto, Goofy, Donald Duck, Daisy Duck, Chip and Dale. To entertain visitors, there are activities and workshops open to fans of all sexes and ages. The highlight in the evening is a parade that will create a memorable and impressive experience for all.
4. "Mickey Hallway" comes alive with a long interactive wall displaying lovely graphics and featuring screens for gamers. The games change according to the theme of each month.
4.1 In November, visitors have fun throwing balls (featuring Disney characters) into a Mickey Mouse-shaped hoop.
4.2 December is a time to make Mickey Mouse-shaped snow models.
4.3 January abounds with prize boxes. When its screen is touched, the box will pop open and set off a few fireworks.
5. "Mega Store" features licensed merchandise from Disney with special limited-edition collections designed exclusively for the festive season. There will be something for everyone, from kids' and teenagers' clothing and toys to luggage covers, backpacks, key chains and miscellaneous accessories. These products will be available for purchase during the celebrations of Mickey Mouse's 90th anniversary. For the first time, the full-range "Sawasdee" collection of Mickey Mouse products will be offered.
6. "Mickey Gallery" hosts an art exhibition titled "Welcome Mickey to Thailand" featuring paintings to be created on Mickey Mouse models by Thailand's well-known artists, A-list entertainers and celebrities to celebrate Mickey Mouse's 90th anniversary.  Mickey Mouse's birthday (18th November) will see the coming together of Thailand's best-known celebrities, artists and other personalities for the exhibition. Singer Artiwara "Toon" Khongmalai and his intimate friend Ratchwin "Koy" Wongviriya will join the exhibit of Mickey Mouse models that they paint together. Street and graffiti artists and personalities expected to join the exhibition include Pa Tue (Sombatsara Teerasaroch), Way Thaitanium (Prinya Intachai), Pasinee "Jeep" Kongdechakul, Thirawat "O" Thiankaprasit, Tikkywow (Pichet Rujivararat), Benzilla (Parinya Pichetsiriphorn), Nev3r (Mongkhol Ratanabhakdee), and Anofficerdies (Thitipoom Phetsangkhat).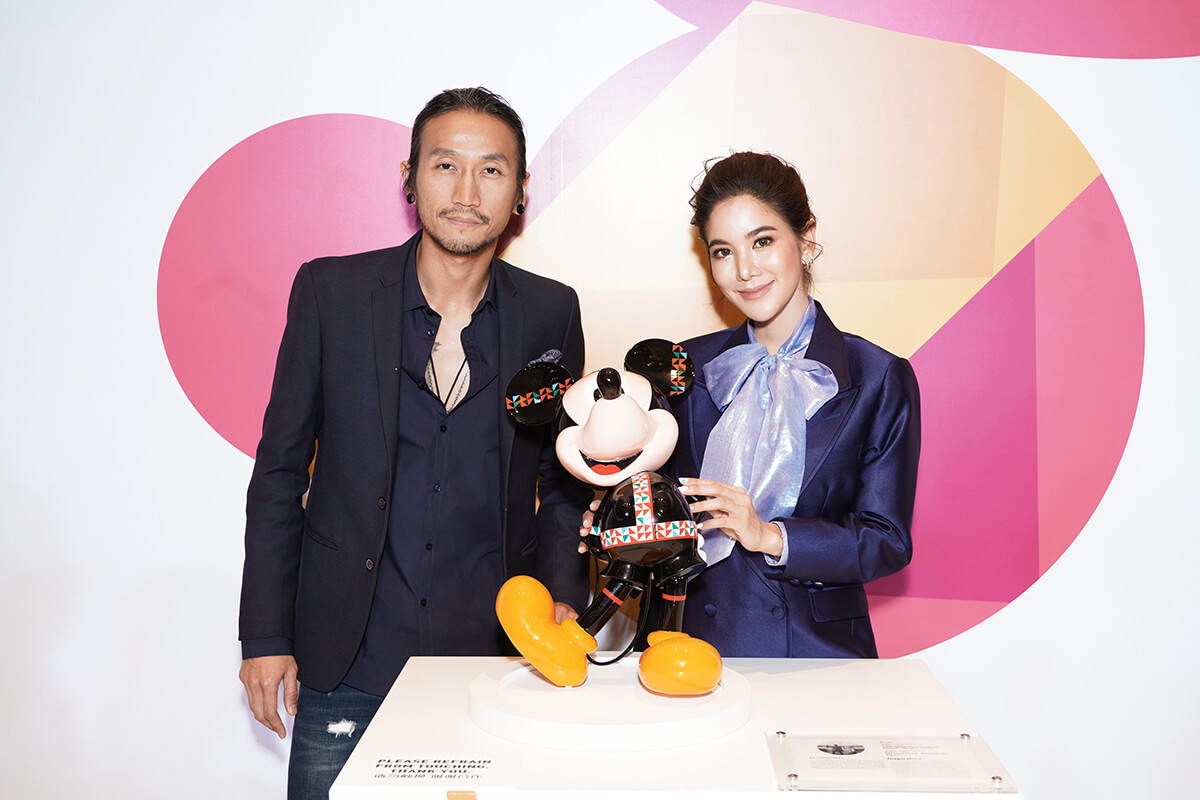 The array of engaging activities during the campaign include workshops to create customized Disney-style accessories. A spectacular light and sound show and a 3D projection mapping performance will be staged. On this special occasion, fans will be treated to a wide range of special collections of merchandise including clothing, toys, kitchenware and miscellaneous accessories. The products will be available at all King Power stores, including the Mega Store on Rangnam Road. Like other blue-label products, the merchandise is available for purchase by shoppers without international flight bookings. The highlight is on the 18th November when fans and King Power's customers have the opportunity to rub shoulders with their favorite Disney friends.
The day will culminate with a gathering of 1,928 fans who were born in November, an event to set a new Guinness World Record. Together they will blow 1,928 birthday candles in the evening and release 1,928 balloons into the sky to celebrate Mickey Mouse's big day. Fans are welcome to visit King Power Rangnam for a string of performances and other activities and special meet-and-greet sessions with some of their favourite Disney friends from the 23rd to 25th November.
Fans are invited to come and celebrate Mickey Mouse's 90th anniversary in this festival of endless magic and indulge in numerous entertaining activities as part the "King Power and Disney's Endless Celebrations" campaign that runs from the 2nd November 2018 to January 2019 at King Power Rangnam. Admission is free.