King Power Mahanakhon reiterates its position as the premier landmark in tourism scene and commitment to raise the bar for Thailand's tourism industry by offering what travellers are looking for with its 360-degree festivities entitled "Mahanakhon Beyond Boundaries". Discover curated delights spanning from food to chilling out and lucky draws with prizes including admission tickets to witness stunning bird's-eye-view at Mahanakhon SkyWalk and Thailand's highest Rooftop Bar during 24 – 30 December. You can also take a selfie in front of Thai-style Christmas tree and enjoy Thai-style holiday celebration complete with sight and sound to reflect a Thai way of life from now until 12 January 2020.
"Mahanakhon Beyond Boundaries" is a festival of delights which King Power Mahanakhon especially designed to deliver travel experience beyond expectation for local and international travellers. Explore variety of delights; from delightful food, delightful shopping to delightful vibe. Starting at the entrance, you will be delighted with Thai-style Christmas tree which is decorated to reflect Thai identity and fun-loving nature of Thai people mixed with contemporary art of Thai life and style experience. Living up to King Power Group's concept of "Life Beyond Boundaries", King Power Mahanakhon creates a journey of endless delightful stories and photos to be passed forward online this festive season. For holiday gift hunters, there are plenty of gift items at King Power Mahanakhon on Level 2-4. You will find selections which were crafted with Thai wisdom reflecting a Thai way of life. Shopping these gift items also mean supporting Thai SME entrepreneurs, too.
Exclusive! From 24 – 30 December, Aksra Theatre King Power is scheduled to perform special performance and admission ticket to Mahanakhon Skywalk and the Rooftop Bar will also be given away for a spectacular panorama at 314 metres above the ground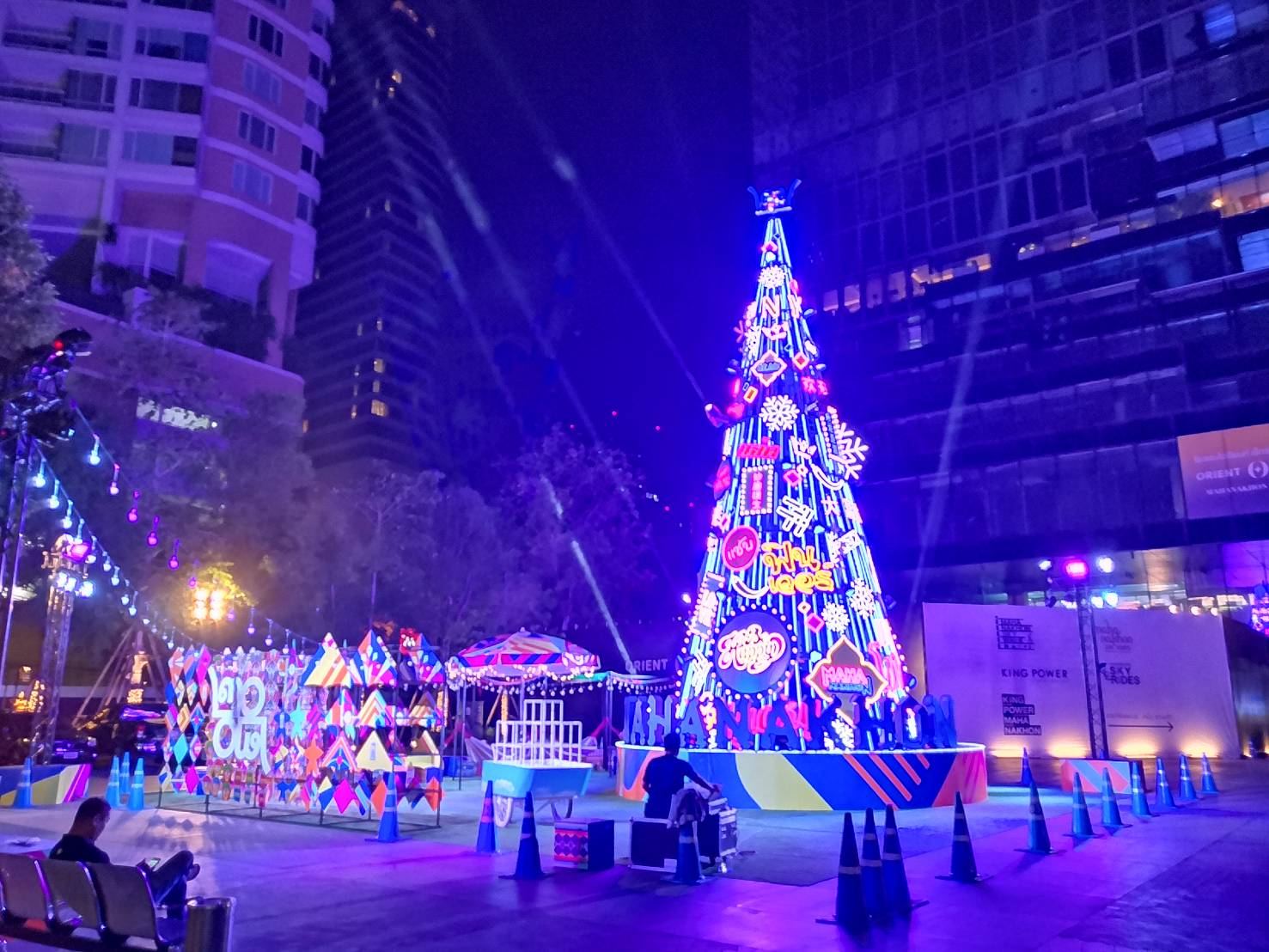 Furthermore, Mahanakhon Bangkok Skybar – Thailand's highest restaurant and bar – is offering spectacular five-course Christmas Eve Dinner at the price of 3,200++ Baht/person.* This course is served twice a day; sunset dinner during 5 p.m. – 8 p.m. and for dinner during 9 p.m. – 1.30 a.m. featuring Foie Gras Terrine with pineapple chutney, Butter Poached Lobster, Pork Neck Agnolotti, 48-Hours Braised Short Ribs, and Chocolate Mousse with Spiced Orange. If you wish to start your Christmas morning in style, please check out five-course Christmas Brunch at the price of just 2,900++ Baht/person*. For those interested, reservations are open at http://go.eventpop.me/ChristmasEve
Experience 360-degree delight at "Mahanakhon Beyond Boundaries" from today – 12 January 2020 at King at Bangkok's most happening landmark – King Mahanakhon. To get there is easy with BTS Chong Nonsi's Exit 3.
To be in the loop for news and promotion of King Power Mahanakhon, please visit www.facebook.com/KingPowerMahanakhon. For reservations at Mahanakhon Bangkok Skybar, please call 0 2677 8722 or www.facebook.com/MahanakhonBangkokSkyBar
Remarks: *Terms and conditions apply. Prices are exclusive of applicable service charge and government tax.