In a new world in a universe far away, all living things you see
in this world have mutated from their originals, coexisting in peace. Welcome to 'Naravanna.'
PHOTOGRAPHY
COURTESY OF BRANDS
This world is the inspiration behind HRH Princess Sirivannavari Nariratana's recent Spring/Summer 2019 collection for SIRIVANNAVARI and S'HOMME.
Her Royal Highness's unrivalled design skills and talents shine in this collection. She said, "The silhouettes and structures of this season are quite varied and complicated, from deconstructed looks to asymmetrical gowns. In addition, I added some details and techniques to create new dimensions such as quilted pattern, pleating technique from Gérard Lognon's workshop in Paris and Maasai Mara — inspired embroidery produced in our own Maison's workshop."
SIRIVANNAVARI and S'HOMME Spring/Summer 2019 collection features 67 looks (59 of womenswear and 8 of menswear). The show commences with a parka look, which consists of a bolero Lurex tweed jacket paired with a dress of the same fabric, a cut-out midriff dress with the fluid silk chiffon skirt in the signature print, a cocktail peplum dress with the metallic quilt detail echoing the space-age theme. For an ultra-feminine look, the collection also includes a zebra-sequinned tulle blouse with hand-stitched feather details and a white corset dress with double layering of fringes: burgundy silk fringe and African beads fringe.
The collection commences
 

with a parka
look, which

 

consists of

 

a bolero Lurex tweed jacket
In addition, the princess established SIRIVANNAVARI Atelier and Academy, the in-house workshop of couture embroidery. Thus, the spotlight also shines on the magnificent embroidery which can be seen from the feather appliqué blouse, the crystal and pearl encrusted gown to the African beads embroidery details.
As anticipated, graphic prints, one of the brand's DNA, remains a highlight. The Princess has created prints this season by visually translating her imagination, including those details signifying NARAVANNA, such as mutants, alien creatures, AI's mainboard, and gearwheels. The prints are incorporated throughout the collection, from ready to wear, leather goods, shoes and scarves (120cm x 120cm and the mini-rectangular size used for handbag handles).
The spotlight shines on the Bijoux Collection, with both fine jewellery and fashion jewellery falling under the same inspiration. The fine jewellery collection–featuring the Maison's emblem 'S' and 'Peacock'–offers rings, earrings and necklace in 18 karat rose gold adorned with mother of pearl, pearl, lapis lazuli and malachite, where the key pieces include a peacock choker in rose gold.
The fashion jewellery collection looks modern and fun in a silver and brass setting, coated with 14 karat gold, encrusted with Swarovski crystals, feathers, beads from Kazuri workshop in Kenya (such as a silver tiara adorned with crystal) and bangle featuring a tiger face.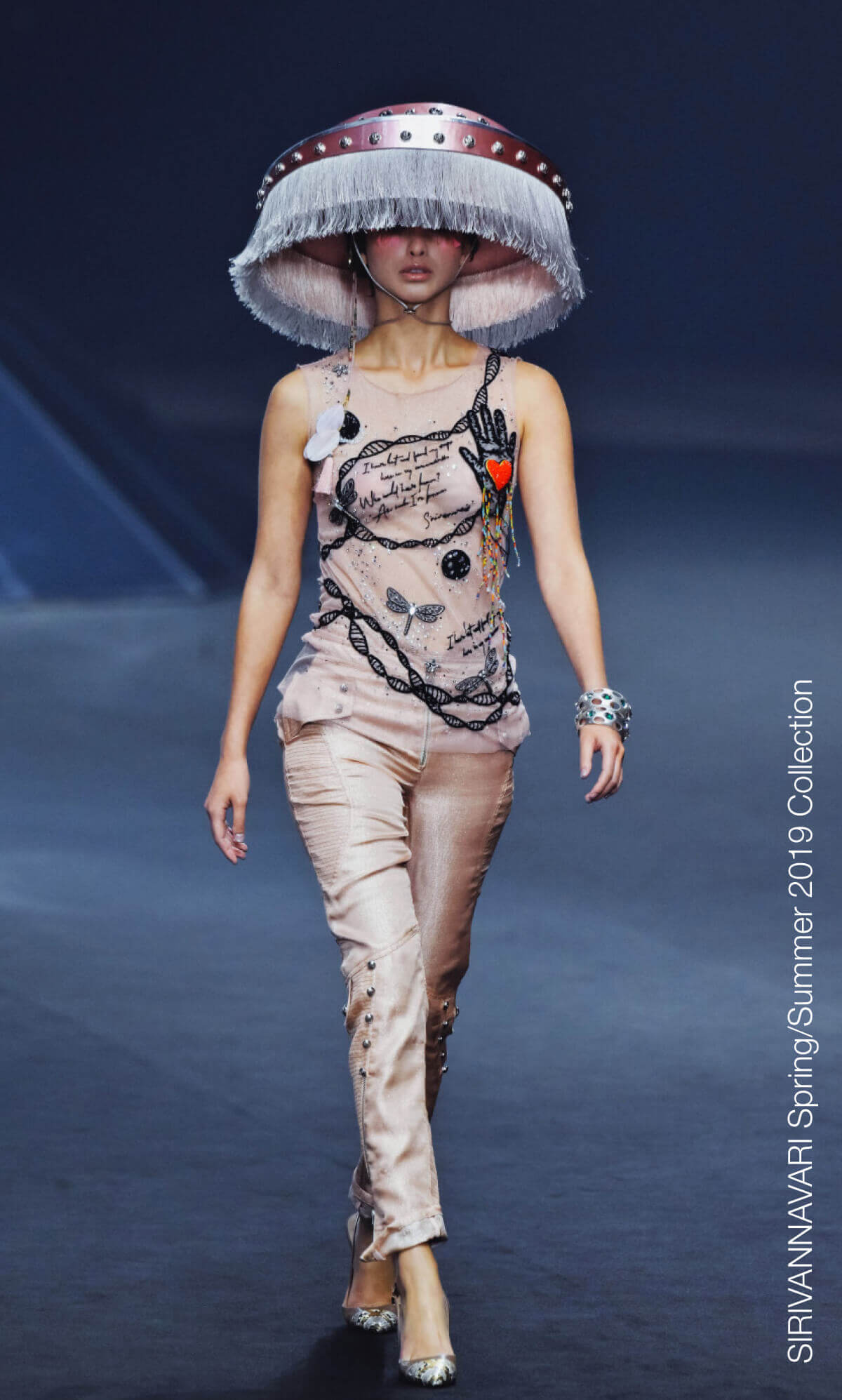 For S'HOMME,
 

the menswear collection
celebrates the luxe of an elegant gentleman from NARAVANNA

 
For S'HOMME, the menswear collection celebrates the luxe of an elegant gentleman from NARAVANNA. The key looks include a hoodie trench coat in beige with badges on the sleeves, a yellow safari jacket with navy blue cropped pants and a two button suit in sage green. 
The collection also features men's leather goods including loafers in signature prints, sandals with African beaded embroidery, and clutches and duffle bags in the Princess' signature prints, decorated with calfskin. In addition, this season offers both fine jewellery and fashion accessories, such as a white gold ring adorned with mother of pearl, lapis lazuli and malachite, leather necklaces with pendants, pin suit with 'S' and tiger emblem. Equally importantly, bathrobe and swimwear, launched for the first time, have also been created in the Princess' signature prints. 
Check out this fantastic and futuristic collection at SIRIVANNAVARI.