King Power Mahanakhon has continued adding vibrancy to Sathon-Narathiwas-Silom; Bangkok's prestigious financial hub with the opening of Thai Taste Hub Mahanakhon CUBE where legendary tastes including Michelin Bib Gourmand eateries and those recognised with a Michelin Plate symbol are celebrated. Discover the sensation of legendary Thai tastes at Thai Taste Hub Mahanakhon CUBE which was opened since 1 October 2020.
For the first time, 8 legendary eateries will be serving their menus under one roof:
Yih Sahp Luhk – From the legendary Nai Soie Beef Noodle on Phra Athit Road comes Braised Beef Rice Pot—a restaurant that true meat lovers can't miss, not to mention the Michelin Guide featured Braised Short Ribs Rice Pot and Hotate Rice Pot.
Pinn – The ultimate Thai-fusion menu comes with its excellence guaranteed by Michelin-star chef and Thai cuisine master Chef Thaninthorn "Noom" Chantrawan.
Kor Moo Rama 5 – Rama 5's famed Grilled Pork Neck comes from the careful marinating and grilling of Chef Nakul "Yeast" Kawinrat.
Limlaosa – Legendary fishballs with a signature bouncy, full-bodied texture that have been enjoyed on Song Wad Road for over 80 years.
A Na Mai Noodle – Beef noodles brimming with hearty beef balls and charcoal-fire grilled meat balls have made this eatery a staple for the past 60 years.
Pa Hong Thai Dessert – Standing in Nang Loeng Market since the time of King Rama V, this dessert shop is well known for classic Thai dessert offerings that include  Khanom Tako or Thai Pudding, Sticky Rice with Black Bean in Sweet Coconut Milk and Coconut Milk Jelly among others.
Chumpol Patonggo – Buriram's famous Deep-Fried Dough Sticks make their way to Bangkok and are famous for being crispy on the outside and fluffy on the inside.
Boon Lert – Egg noodles Served with Wontons, Grilled Soy Sauce Pork and Crispy Pork is best loved for a secret marinating technique that has kept this eatery a staple of Nang Loeng Market for over 40 years.
Other eateries recognised by Michelin
Maverick Suki – Famous Tender Pork with Spicy Sukiyaki Sauce and Chicken and Fried Noodles that has attracted the crowd to its stall since 1960.
Pad Thai Fai Ta Lu – Dinsor Road's renowned Pad Thai created by a Michelin-starred chef after returning from New York uses a special "flame engulfed" technique to deeply infuse the flavour into the noodles.
Phed Phed Hey! – Authentic Isan flavours derived from boast  served vibrant and spicy. Spicy Isan dishes derived from family heirloom recipes stay true to its original roots
Nai Ek Roll Noodle – Yaowarat's legendary Roll Noodles, best known for its rich, fragrant and complex-flavoured soup is ready to be served for the first-time outside Bangkok's Chinatown.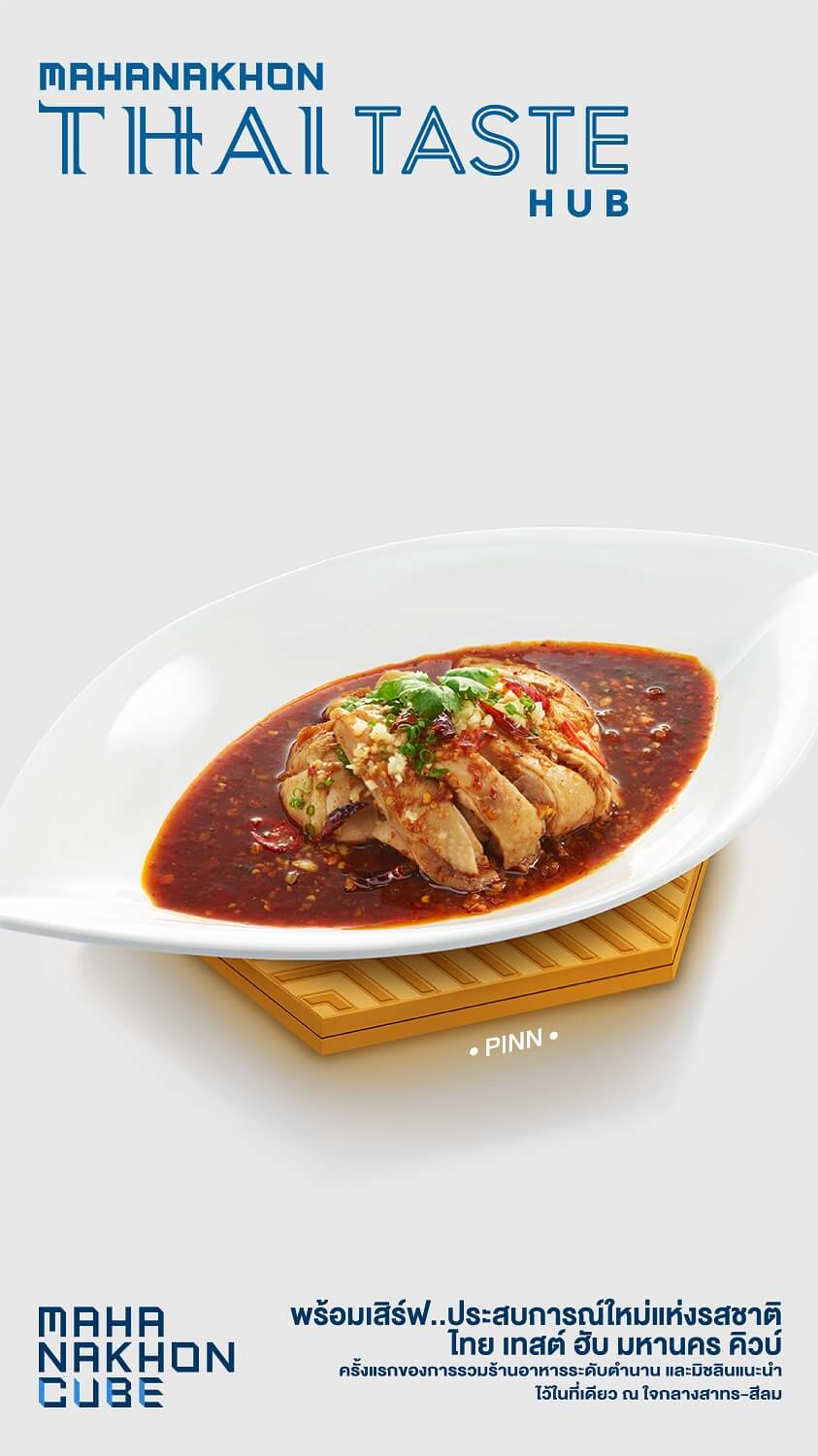 Thai Taste Hub Mahanakhon CUBE's interior has a Sino-Portuguese décor theme to complement the curated refined flavours served on its 640-square-metre air-conditioned space with 200-seat capacity. Despite, the design is a reminiscence of Bangkok's old era, street arts crafted by beloved local street artists of this era; Lolay, Benzilla, BeerPitch, Pim and Gongkan, adorn the surrounding from walls, walkways to dining tables. The new dining venue also serves as a new creative space right in the bustling Bangkok where foodies and urbanites could not afford to miss.
In celebration of the opening, Thai Taste Hub Mahanakhon CUBE is now offering a promotion – Buy THB300 get THB400 for those who purchase a one-day non-refundable dining card from now until 31 October 2020. Cashless payment channels include Rabbit LINE Pay, TrueMoney Wallet and AirPay which gives you up to 30%* cash back.
Thai Taste Hub Mahanakhon CUBE is the latest branch of the first Thai Taste Hub King Power Rangnam which has received warmth reception from local and international crowds alike.  Thai Taste Hub Mahanakhon CUBE located on Level 1 of Mahanakhon CUBE is directly accessible from Chong Nonsi BTS Station (Exit 3) every day from 10 am – 8.30 pm. For details, visit https://kingpowermahanakhon.co.th/cube or call 02-677-8721.
NOTICE *Terms and conditions apply.