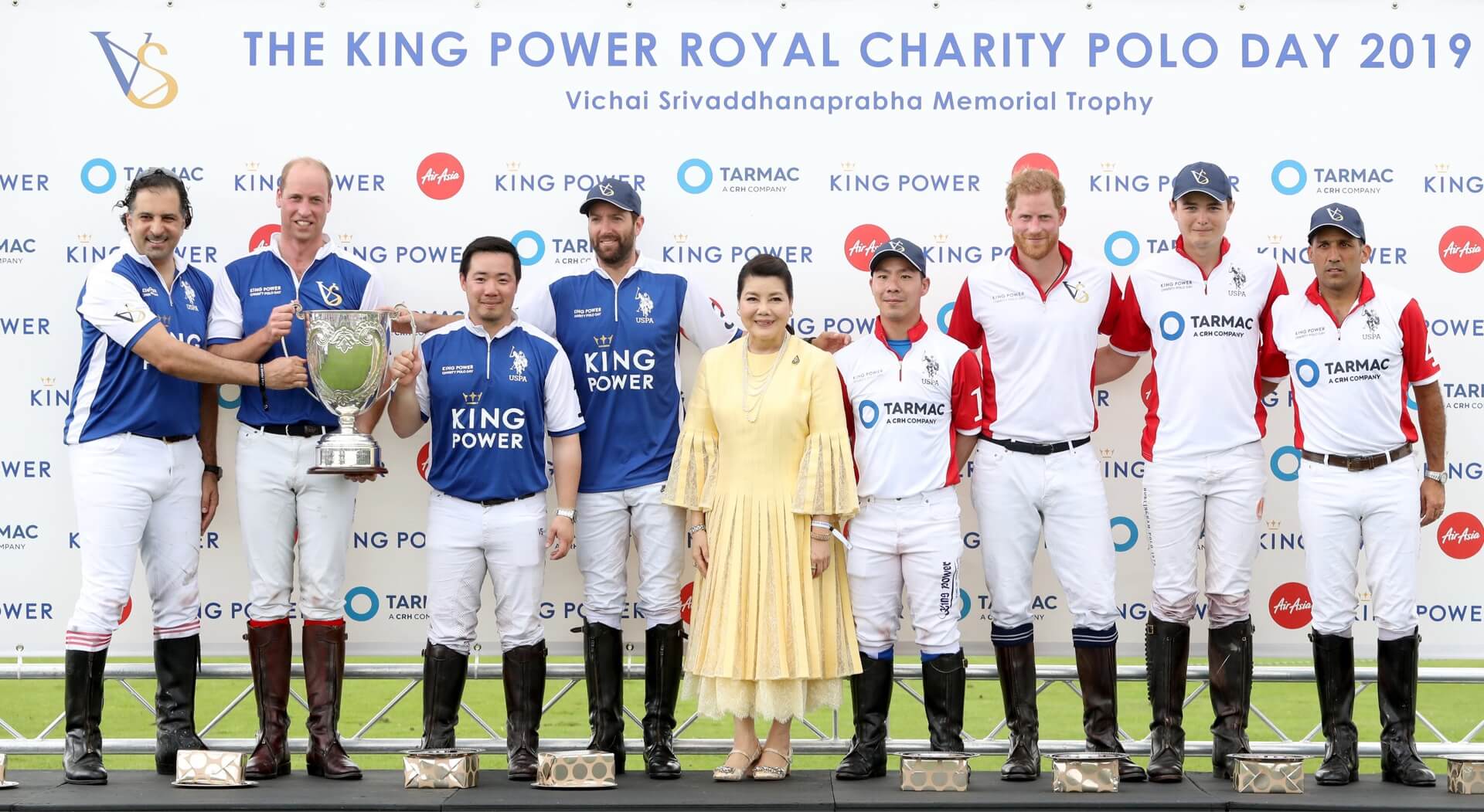 The Charity Polo Match of the Year in England
In Memory of Vichai Srivaddhanaprabha, Founder of the Thailand Polo Association
To carry on the intention and determination of Vichai Srivaddhanaprabha, former Chairman of King Power Group and late founder of the Thailand Polo Association, in promoting, developing, and raising the standard of Thailand's Polo towards international standards, the King Power Royal Charity Polo Cup 2019 is held and billed as the UK's biggest charity polo of the year.
Aiming to raise the funds and awareness for 15 foundations and charitable organisations supported by the Duke of Cambridge and Duke of Sussex, the charity polo match, of which King Power Group was one of the main sponsors, raised the funds worth £1 million. The royal brothers participated in the event along with other honourable guests from Thailand and England at Billingbear Polo Club, Wokingham in Berkshire.
King Power Royal Charity Polo Cup 2019 was honoured to have the Duke of Cambridge presided over the event amidst the warm welcome from the Srivaddhanaprabha family including King Power Group Chairman Aimon Srivaddhanaprabha; Vice Chairman Voramas Srivaddhanaprabha; Chief Executive Officer Aiyawatt Srivaddhanaprabha; Assistant Chief Operating Officer Apichet Srivaddhanaprabha; Assistant to Chief Financial Officer Aroonroong Srivaddhanaprabha, and other executives of King Power Group. The royal siblings participated in competing teams for Khun Vichai Srivaddhanaprabha Memorial Polo Trophy with the Duke of Cambridge played for the King Power Team alongside Khun Aiyawatt while Duke of Sussex joined the Tarmac team with Khun Apichet. The King Power Team recorded a narrow 7-6 victory.
Aiyawatt Srivaddhanaprabha, Chief Executive Office of King Power Group, and Vice Chairman of the Thailand Polo Association, who is one of the polo athletes of the Thai national team, said "Believing in the potential, power and ability of Thais has always been the core maxim of King Power Group. Established 21 years ago in 1998, the Thailand Polo Association was founded by Khun Vichai to reflect his passion for the sport of polo."
Vichai's strong affection and avid passion for the sport turned into a determination and commitment to popularise the polo sport in Thailand and abroad. Khun Vichai Srivaddhanaprabha was also eager to see the development of Thai polo athletes' competitiveness to be on par with their international counterparts.
In the past, equestrian polo athletes of the Thai national team were awarded with medals and trophies from several competitions including Thailand Polo King's Cup, which was bestowed by the late King Bhumibol Adulyadej, the Cartier Queen's Cup bestowed by Queen Elizabeth II of the United Kingdom, Jaeger-LeCoultre Gold Cup, and the SEA Games. These successes are a testament of Khun Vichai's relentless determination to improve the equestrian skills of Thailand team. King Power Group will carry on Khun Vichai's intention to support the athletes and the sport of polo in Thailand in the world.
The event was also a hallmark get-together of those who adore and are passionate towards the great sport of polo as Vichai Srivaddhanaprabha once remarked "Playing polo is to spend time in the midst of loved ones."
#KingPowerRoyalPoloCup2019 #KingPower